CHINA—On April 9, the roofs of 37 retail stores on Dongguang street in Chengdu City suddenly collapsed. The accident caused more than ten deaths and over 20 people were sent to the hospital.
The 37 retail stores are under the same construction structure, continuously numbered along one side of the street.
According to a source, after the incident, local Chengdu authorities had requested the Work Safety Supervision Administration and the Department of Public Security to investigate into the accident. They found the building management and construction contractor and demanded that they work overtime to clean up the accident site overnight.
On April 10, Yan Wenhan, a volunteer from Tianwang News Human Rights Center, went to the accident site to gather public comments and take photos.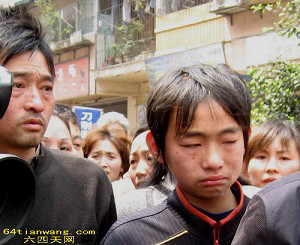 Some local residents complained that these stores were only built two years ago. During the construction, there had already been problems and the quality of the construction had been questioned.
A victim's family said that after the accident, those in charge claimed, "We will solve the problem and take care of everything resulting from the accident." However, they disappeared after giving them 3,000 Yuan (approximately US$362.32) this morning.
Family members of some of the victims were also interviewed at the site by media from other places.