Independent Election Candidate In China Uses T-Shirts To Speak
August 5, 2006 12:00 am Last Updated: August 5, 2006 12:00 am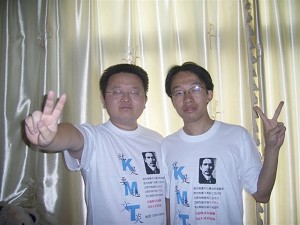 The year 2006 is called an "election year" in mainland China. County and village level representatives of the People's Congress will change terms, and new representatives will supposedly be elected directly by voters. Following that, Communist Party committees at provincial, city, county and township levels will have their term change. These changes will affect more than 900 million voters, who are all waiting to see what happens. Sun Buer, a young man in Wuhan, is campaigning as a candidate for representative of the People's Congress in Jiang'an district of Wuhan city. He entered the race as a candidate independent of the Chinese Communist Party, while himself a leader of the local Pan Blue Coalition [1]. To let people know about his campaign ideas, he has made 300 T-shirts and distributed to voters.
Regarding his candidacy, Sun Buer said that people often told him they never know who their local representatives in the People's Congress are, and that they hope a person who can truly speak for them can be elected this time. Sun believes that there have been many problems in the elections of both the People's Congress and Party committees, since the voting rights of many people have been ignored and trampled upon. For example, the process of generating candidates has been too constrained, and candidates are often decided internally or appointed. Candidates and voters do not have the opportunity to meet and communicate face to face. The voting procedures are without regulations and guidelines, and vote tally and vote recount have often been done behind close doors. Some places and offices even manipulate the entire voting process, turning what is supposed to be a democratic election into an illegal means to achieve personal gains. These problems have severely damaged fairness and competitiveness of elections.
Sun Buer said he likes to use T-shirts to advocate his ideals. T-shirts are popular and the method is inexpensive and practical. Using T-shirts he can express his opinions in a relatively easy and simple manner. He saw that during elections in Taiwan, many voters wore election T-shirts advocating candidates or parties they support, and the effect is pretty good. He hopes to follow the Taiwan experience.
Sun Buer indicated that his main ideas as an election candidate have been expressed on these T-shirts. This makes it easy for voters to understand him and for him to communicate with voters. He gave out election T-shirts to his loyal supporters, who are happy to accept them. In doing so, Sun hopes to encourage people's democratic consciousness and their desire to participate; he wants people to be more aware of their own rights.

The front side of the T-Shirt has words "Must Elect Wenyan" on the left. (Wenyan is Sun Buer's other name). Also on the left is a blue "KMT" logo that represents the Pan Blue Coalition. On the right side, the image of Sun Yat-Sen is on the top, beneath which there are characters that read as the following:
Because he is the follower of Yat-Sen's ideal
Because he is a friend of laid-off workers
Just because he believes in "Three Principle of the People" [2]
Just because he is not a member of the Chinese Communist Party
Therefore he has only voters in his heart
Only with supervision is there check and balance
Only with democracy is there equal prosperity
On the back of the T-shirts, the characters read:
Let us live a life like Taiwanese people
Let us see China's hope for tomorrow
Let our future generations live in a free world
Please put down your work at hand and mah-jongg on the table
Take up your sacred vote
Today's life can be changed
You can do it now
Sun Buer has been actively engaged in the election campaign. Everyday he meets with voters to advocate his election ideal. He said what's important is not the result but the process of participation; it is important that he uses his action to practice and spread democratic belief and principles. He wishes to use the election process to understand ordinary people's lives and work, to awaken people's conscience and to promote democratic consciousness. He wants to use his campaign to let people know what it really means to say "people are the masters". Through down-to-earth effort, he is convinced he will win many people's support.
Note: [1] Pan Blue Coalition is a political coalition that is based in Taiwan. It consists of the Kuomintang (KMT), the People First Party, and the New Party. The name comes from the color of the Kuomintang emblem.
[2] "Three Principles of the People" represent Sun Yet-Sun's political ideal. They include the Principle of Nationalism (international sovereignty and equality of all ethnic groups), the Principle of Democracy (citizen's rights to exercise political and civil liberties), and the Principle of Social Well-being (the government must serve the welfare of the people).