DAYTONA BEACH, Fla.—IMSA held another two-day test at Daytona International Speedway, Dec. 13–14, for cars planning to compete in 2017's WeatherTech SportsCar Championship. About two dozen teams brought some thirty cars representing every class but Prototype Challenge.
Action Express, Wayne Taylor Racing, VisitFlorida Racing, and Mazda Motorsports brought brand new Prototypes. Risi Competitizione, Corvette Racing, Ford/Ganassi, BMW Team RLL, and Porsche brought GT Le Mans cars, and a host of new and old teams brought a range of GTDs.
Naturally the prototypes were the stars of the show: four new Daytona Prototype International cars and one LMP2, representing most of the models which will lead the field throughout the 2017 season.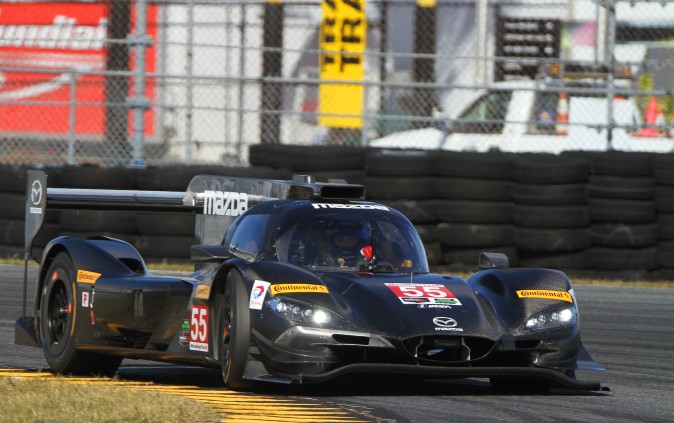 2017's Top Class Unveiled
First, and most important, the new cars are fast. Ricky Taylor in the #10 Wayne Taylor Racing Cadillac DPi-V.R was clocked at 200.5 mph on the banking—not too shabby for a car which was delayed half a day with telemetry problems.
Eric Curran in the #31 Action Express Racing Cadillac DPi-V.R set the fast lap of the four sessions, circling Daytona's 3.56-mile course in 1:37.797 seconds at 131.407 mph average. That's well over a second quicker than the pole-setting speed for the 2015 Rolex 24 at Daytona of 1:339.194 set by the #60 Shank Racing Ligier-Honda (qualifying in 2016 was slowed by rain so figures are not comparable.)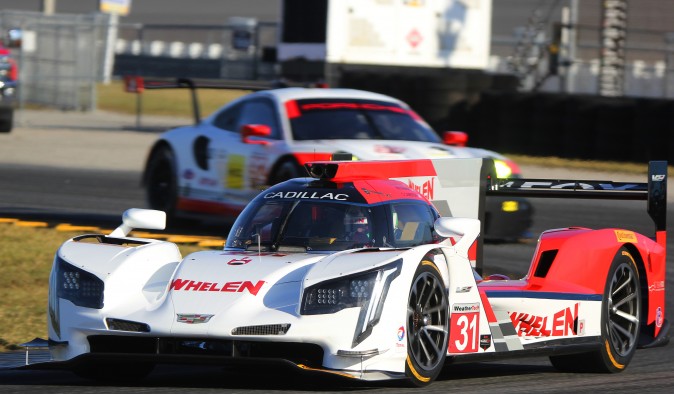 "This afternoon, we've had a good run," Curran told IMSA.com. "We've had a solid car and it's fun. I was quickest this afternoon and that feels really good to be in a new car and to feel so comfortable. We're good. We'll keep plugging away, but I really love the whole new program. I love the look of the car, the red and white Whelen colors, and it's just fun to be part of this Cadillac program. It's going to be a great season.
"We're not the only ones in the new-car boat. Everybody's here with us. It seems like the whole paddock is full of new cars. It's kind of like whoever can get their new car together the quickest and be ready for the 24 coming up in January. We've got a good crew, we've got a good team and Dane and I are prepared to pick up where we left off in 2016 with the championship."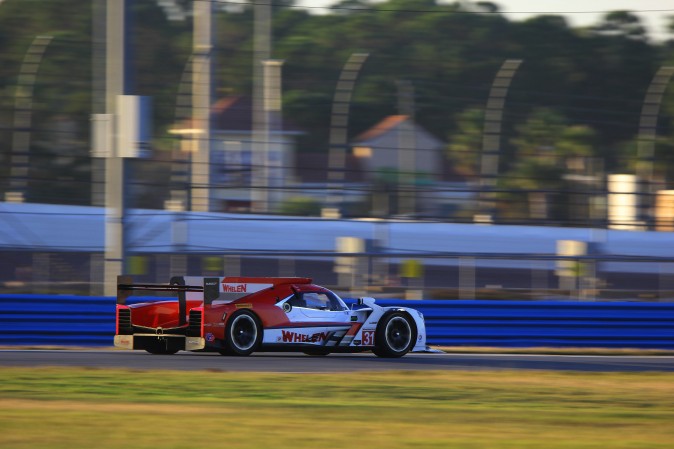 Boasting at least as much power as the last generation of Daytona Prototypes, the new cars are much more aerodynamically efficient: narrower, with more modern designs, with separate pods for the fenders, with careful attention paid to airflow around and through the various elements. Even the new Mazda RT24-P, with only a two-liter engine, was able to hit 187 mph despite having high-downforce bodywork and transmission cooling issues. The rest of the prototypes hit or exceeded 195 mph.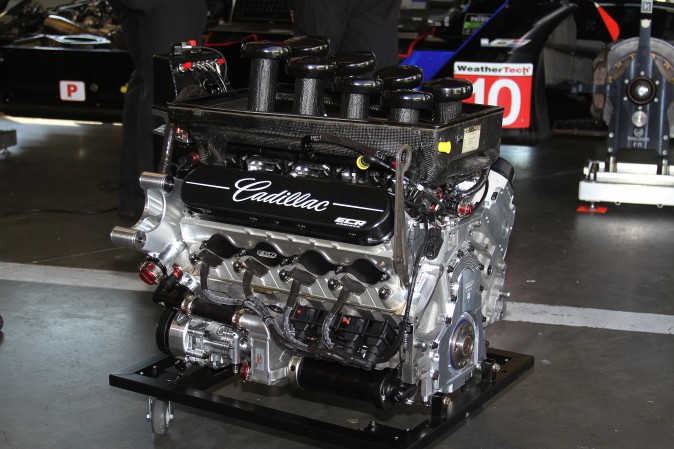 The three Dallara-based Cadillac DPi V.R.s—two from Action Express and one from Wayne Taylor—were the quickest, suggesting that the 6.2-liter Cadillac V8 might be the most powerful engine, at least early on. it also speaks to the aero efficiency of the bodywork, co-designed by Cadillac and Dallara. AXR has the further advantage of being able to compare data between the two cars, while WRT had tested its new Cadillac at several tracks in the week prior to the test.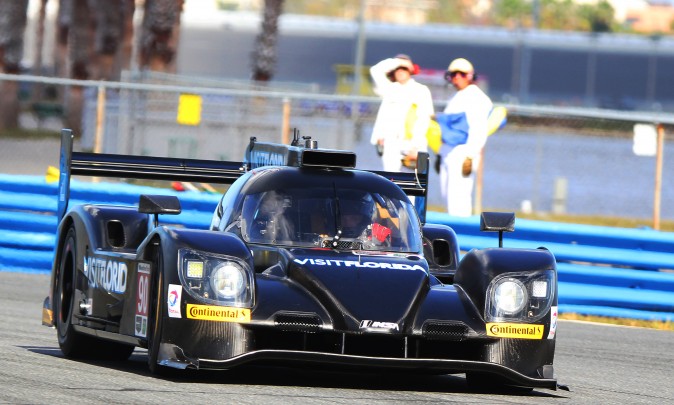 Non-Cadillacs Face Challenges
VisitFlorida ran its first hot laps with its new Riley-Multimatic Mk 30-Gibson Tuesday morning, having done a few shakedown laps at Carolina Motorsports Park Saturday, Dec. 9. The car is headed to some session in a wind tunnel next, team owner Troy Flis told IMSA.
"Our car leaves here, goes to a wind-tunnel test it has to go through," Flis explained. "We won't have our car back until Christmas, so now we have Christmas, New Years, then the Roar, a week and you're here.
"It's going to be a challenge. We've got some time and some days to go, but right now, it's just new-car blues and putting your head down and working through them. The hurdles are getting smaller and they're getting fewer and that's a good thing."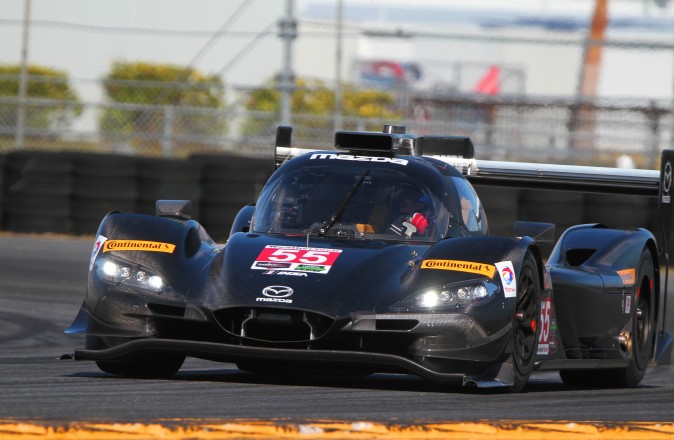 The Mazda was likewise lacking in testing time—but that is the reason for test days. 
Mazda driver Tristan Nunez explained that the new RT-24P had a lot more grip and power than the team's five-year-old old Lola B12-80s.
While the old Lolas were decent chassis, they had bits and pieces developed in each season tacked on here and there. With the new car, he explained, the downforce and the suspension were more in synch—everything was designed as a unit and worked as a unit.
He described the new car as "more efficient," with the aero and mechanical grip better balanced so that everything worked together—"You can really feel that when you are driving the new car," he said.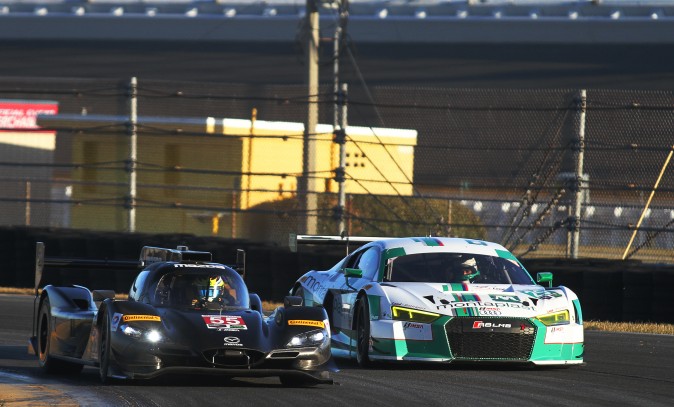 The Roar Is Coming, Then the Rolex
All the teams will take the data assembled over the two-day Daytona test, modify their cars to suit, and return for the three-day Roar Before the Rolex 24, Jan. 6–8, 2017. 
Data gathered at the Roar will be used to prep the cars for the grueling season opener, the 2017 Rolex 24 at Daytona, Jan. 28–29, 2017. Tickets for both events are available through the Daytona International Speedway website.