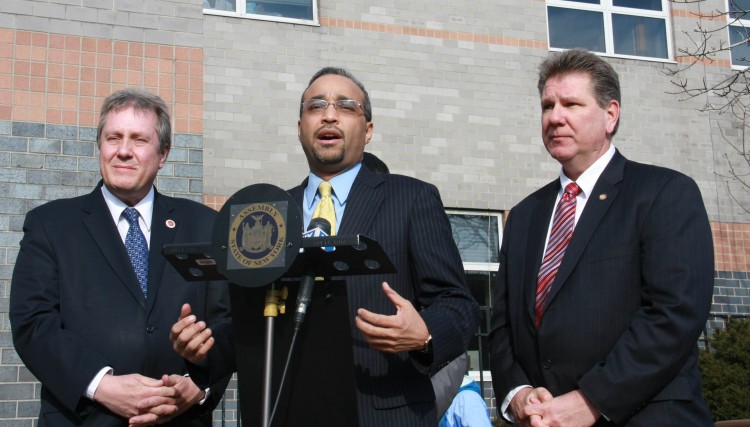 NEW YORK—In the Jackson Heights area of Queens, one of the most culturally diverse districts in America, city officials have recently seen an increase in immigrants coming to their offices reporting various types of real estate, employment, and travel agent fraud.
These immigrants, some of whom are undocumented, feel they cannot go to the police to report these crimes out of fear of their legal status—and the scammers know it. This leaves these crimes unsolved and the scammers free to repeat their crimes.
Assemblyman Michael DenDekker and other members of The Unity Team gathered in front of Elmhurst Hospital on Wednesday to remind their constituents their offices are open to aid in getting scammers off the streets. "When you need help in a case like this, we are here for you. If you are afraid to report a suspected case of consumer fraud or cheating to the New York City Police Department or other law enforcement agency, you can come to us and we will help," DenDekker said.
DenDekker, as well as the other Unity Team members, said they will facilitate meetings between the police and citizens, and try to recover lost money if possible, all while keeping the citizen's immigration status out of the conversation.
The city officials feel immigrants' distrust of the police stems from fear of deportation and sometimes bad experiences in their home countries. Immigrants are also less likely to know laws, such as not having to pay to apply for a job, or laws against apartment application fees.
Councilman Daniel Dromm, also a member of The Unity Team, warned: "Be very careful about the people you deal with and be very suspicious when someone asks you to put money down for anything. Always get something in writing before you put any money down."
DenDekker said there were no official statistics on the number of people being victimized because the crimes are not being reported to the police, the only agency that would keep those numbers. His office keeps a record of people coming into his office and if the issues were resolved, but those records will not be made public.