Iconic Brooklyn Carousel Gets Floodwater Protection
September 18, 2013 10:33 pm Last Updated: September 30, 2013 8:01 pm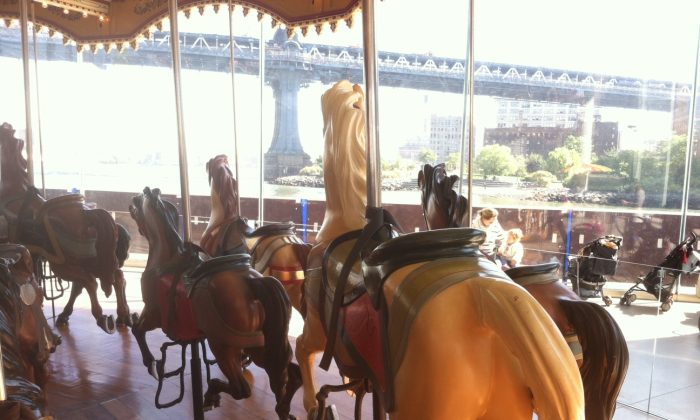 NEW YORK—Jane's Carousel, one of Brooklyn's unique treasures, is now safer from future floods.
A portable protection system can now be set up in about two hours around the carousel, which is situated in Brooklyn Bridge Park between the Manhattan and Brooklyn Bridges.
During Hurricane Sandy, the square glass case around the carousel was inundated by water that came up to the horses' hooves. Though the electrical system flooded, the carousel survived, with skylight and glass casing intact.
A night photo of the flooded carousel posted on Twitter sparked international concern and became one of the symbolic images of the wrath of Hurricane Sandy on New York City.
The flood protection system, dubbed AquaFence, protects against up to 3 feet of flooding with minimal leakage. The 4-by-7, blue marine-grade panels can be set up to surround the perimeter of the carousel in two hours by a team of 10 people using hand drills.
"Most of the things that are out there are sandbags, which don't work," said Adam Goldberg, director of New York Operations for AquaFence, during a demonstration of the panels on Sept. 18. "Sandbags are used to direct the flow of water, not actually prevent leakage."
The AquaFence technology was developed in Norway in 2004. The company is now based in Connecticut. The technology has been successfully tested by the U.S. Army Corps of Engineers throughout the world. This summer, 6-foot panels were used in Hungary to hold back flood waters. AquaFence has also been used in Fargo, North Dakota, to protect a golf course. It is also used yearly in Mount Vernon, Washington, to save precious hours of manpower in the face of rising floodwaters.
Though the protection system for the carousel is 1 of 14 such projects underway throughout New York City, Goldberg said it's one of the company's favorites.
Bought in 1984 at an auction by David and Jane Walentas, the three-row machine has 48 horses and intricate, detailed wood carvings throughout. It took Jane (for whom the carousel is named), 27 years of painstaking effort to restore the ride to its original glory by hand. Built by the Philadelphia Toboggan Company in 1922, it was originally installed in a park in Youngstown, Ohio.
Since the carousel was installed in 2011, it has become a symbol of Brooklyn Bridge Park and has been visited by over half a million people. It's also frequented by celebrities for photo shoots and television features, including Martha Stewart and actress Mila Kunis. It was named Best Public Space by Travel + Leisure magazine and Best New Urban Amenity in 2012 by The New York Municipal Arts Society.