AUSTIN, Texas— Sometimes people mistake Shen Yun Performing Arts as a production coming from contemporary China. But Shen Yun is actually based in New York and the company is dedicated to depicting China before communism.
After some research, Jim and Kathe Schuchert decided to attend a Shen Yun performance at The Long Center for the Performing Arts on Saturday and they found the experience to be one filled with positivity and kindness.
"I [had thought] that this is communist, this is China. But then after reviewing and seeing what the show is about [I] changed my mind because they're about peace and love and kindness," Mr. Schuchert said.
"The Chinese before the CCP are beautiful, beautiful people," added Mrs. Schuchert.
After the performance, they expressed how much they enjoyed it.
"I love it because I feel the optimism … I felt like we can hope, like we can do this," Mrs. Schuchert said.
As the couple watched the performance, they saw the spirituality in Shen Yun and shared their thoughts on the importance of spirituality.
"Spirituality is of God. Spirituality is of who created you and I, and the entire world entire heavens, and all that. Evil is [to] take over the world in order to dominate it," Mr. Schuchert said.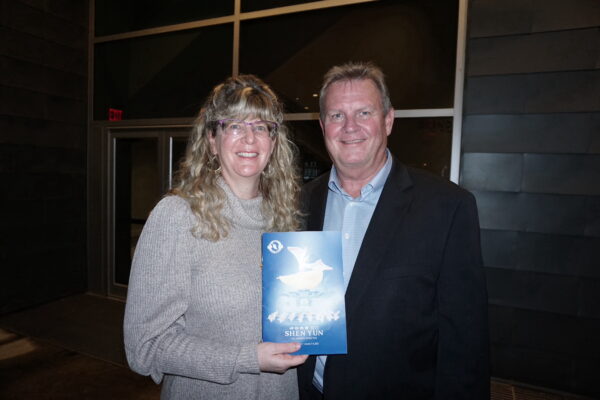 Jerry and Tracey Hendrix came to see the performance as a group of nine. They were delighted to spend a Saturday evening with family and friends experiencing Shen Yun.
"I really expected it to be good—there's no way I could expect it to be as good as it was! When they opened the first curtain, and everybody was on a cloud and it was just vivid and beyond anything I could have expected," Mr. Hendrix said.
They were particularly impressed with the digital backdrops. Shen Yun uses their own patented technology to extend the stage endlessly. The performers have the perceived ability to fly high into the sky or dive deep into the sea using animated backdrops.
"The backdrop where they would go in and off was looking like they were going into the sky or back in and they would just do it seamlessly," Ms. Hendrix said.
"It's like they're on the stage and now they're on the screen and then they're on the stage and you see how they do it but at the same time you don't see how they do it—because it is seamless!"
Reporting by Sally Sun, Sonia Wu, and Maria Han.
The Epoch Times is a proud sponsor of Shen Yun Performing Arts. We have covered audience reactions since Shen Yun's inception in 2006.