Hurricane Maria is still strengthening, reaching rare Category 5 strength on Monday night, according to an update from the U.S. National Hurricane Center on Sept. 18 at 8 p.m. ET.
Hurricane hunter aircraft discovered that Maria has become "a potentially catastrophic Category 5 hurricane," and the "eye and intense inner core" is nearing the island nation of Dominica on Monday evening, the NHC stated.

Maria has winds of 160 mph and is moving west-northwest at 9 mph.
The storm should be lashing the island right now, as it is only about 15 miles from the island.

It's 40 miles from Martinique, another island. "The government of France has changed the Hurricane Warning to a Tropical Storm Warning for Martique," the NHC stated.
The Weather Channel reported on Monday night that now, "Maria will likely strike the Virgin Islands and Puerto Rico as an intense hurricane Wednesday … After at least a brush with Hispañola, Maria may then target the Turks and Caicos by Friday."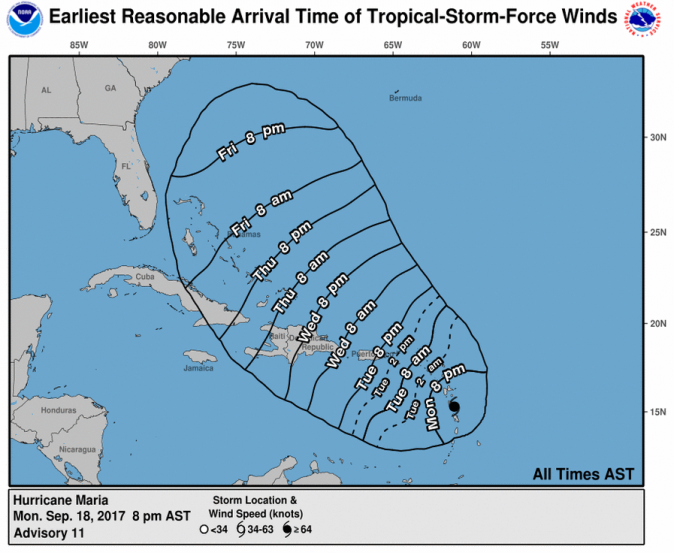 But, it added, Maria may not threaten the U.S. East Coast.
"Maria is developing the dreaded pinhole eye," the National Hurricane Center stated late Monday, noting that it's an indication it's strong hurricane.


Meteorologist Ryan Maue noted that there are signs that Maria "will recurve away from U.S. East coast."
According to the NHC:
A Hurricane Warning is in effect for…
-Guadeloupe
– Dominica
– St. Kitts, Nevis, and Montserrat
– U.S. Virgin Islands
– British Virgin Islands
– Puerto Rico, Culebra, and Vieques
A Tropical Storm Warning is in effect for…
-Antigua and Barbuda
-Saba and St. Eustatius
-St. Maarten
-Anguilla
-St. Lucia
-Martinique
A Hurricane Watch is in effect for…
-Saba and St. Eustatius
-St. Maarten
-St. Martin and St. Barthelemy
-Anguilla
-Isla Saona to Puerto Plata
A Tropical Storm Watch is in effect for…
-St. Vincent and the Grenadines
-West of Puerto Plata to the northern Dominican Republic-Haiti
border