Hurricane Irma formed Wednesday, and it could become a Category 3 hurricane by Thursday evening, weather officials said.
Irma is now a hurricane—the fourth of the 2017 season—and it's centered in the central Atlantic Ocean as of Thursday, the National Hurricane Center said.
Currently, Irma is Category 2 with 100-mph winds and has been forecast to morph into an "extremely dangerous" system over the next few days, USA Today reported.
Irma's center is located some 650 miles to the west of the Cabo Verde Islands, Weather.com reported.
Hurricane Irma doesn't pose an immediate threat to land, but its track remains uncertain. It will take about a week to head west across the Atlantic.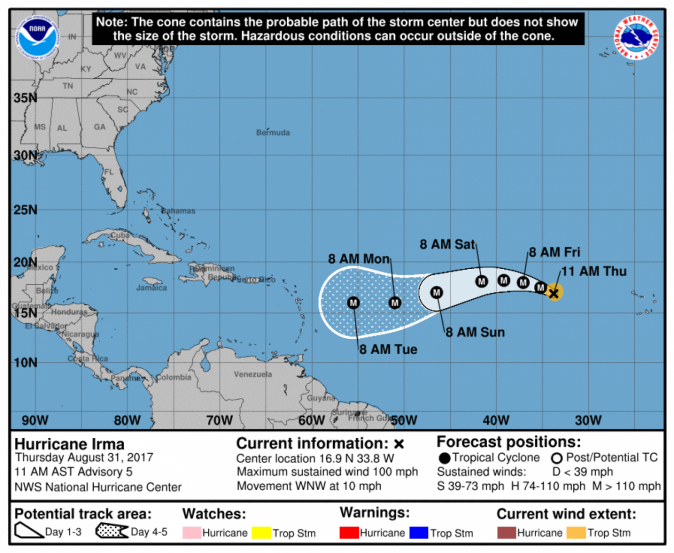 It could hit the Leeward Islands in the northeastern Caribbean, North and South Carolina, or Bermuda, Accuweather.com reported.
As Weather.com forecasters noted, Irma will "move westward and then turn west-southwest on the south side of a ridge of high pressure called the Bermuda high" and then it will "move through a portion of the Atlantic Ocean where upper-level winds are favorable for intensification the next few days."
Some reports have said that Irma could turn into a Category 4 storm—or possibly a rare Category 5 before it reaches the Antilles Islands next week.
"It's way too early to say for sure if Irma is going to have any impacts on the United States, but any time the forecast models are predicting a potentially strong hurricane headed northwest across the tropical Atlantic, I'd pay attention," Phil Klotzbach, who is a meteorologist at Colorado State University who researches Atlantic hurricane forecasts, told Business Insider on Thursday.
Here is how the National Hurricane Center described Irma's threat on Thursday:
An area of low pressure could form over the southwestern Gulf of Mexico by the weekend. Development, if any, of this system is expected to be slow to occur as the low moves slowly northward. If this system does develop, it could bring additional rainfall to portions of the Texas and Louisiana coasts. However, any rainfall forecast is uncertain at this time range, and it is too soon to determine any specific impacts. Interests in these areas should monitor the progress of this potential system for the next few days.
Irma comes days after Hurricane Harvey, which hit the Gulf Coast of Texas on Friday night, leaving thousands displaced by the storm due to heavy rain and flooding. At least 30 people have been confirmed dead.
And Tropical Storm Lidia formed near the Los Cabos resorts at tip of Baja California Peninsula on Thursday, according to the National Hurricane Center.