The U.S. National Hurricane Center (NHC) said that Hurricane Humberto has formed in the Atlantic Ocean and that it "continues to strengthen."
It said that "large swells" are affecting the East Coast of the United States, the agency noted in its latest 5 a.m. update. The storm is located about 760 miles west of the island of Bermuda and has maximum sustained winds of 85 mph with higher gusts.
Humberto is moving northeast at 5 mph, meaning that it will likely not affect North America.
No hurricane warnings or watches are in effect, the NHC noted.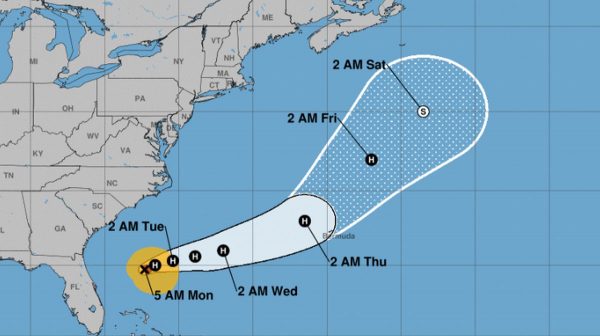 However, according to the NHC, "Interests in and around Bermuda should monitor the progress of Humberto."
"A turn toward the east-northeast is expected later today. An east-northeastward motion with a gradual increase in forward speed is expected tonight through early Thursday. On the forecast track, the center of Humberto is forecast to approach Bermuda late Wednesday or Wednesday night," the agency wrote.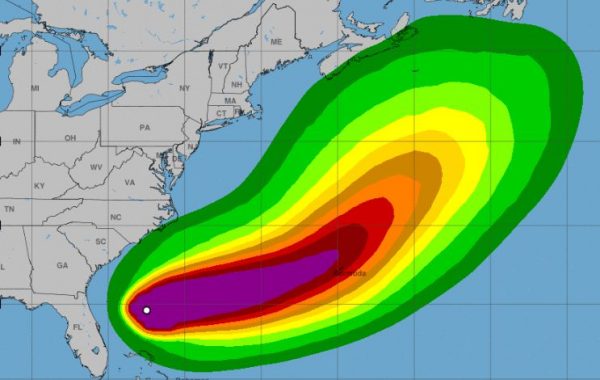 Humberto is still forecast to strengthen "during the next couple of days."
The agency noted: "Swells generated by Humberto will affect the northwestern Bahamas and the southeastern coast of the United States from east-central Florida to North Carolina during the next few days. These swells could cause life-threatening surf and rip current conditions. Please consult products from your local weather office."
In a separate update, the NHC said a small low-pressure system is located over the central tropical portion of the Atlantic Ocean.
"Satellite data also indicate that the low has become better defined, and environmental conditions are expected to be conducive for the formation of a tropical depression during the next couple of days while the system moves slowly northwestward to west-northwestward," forecasters said, adding that there is a 60 percent change of forming into a stronger system within the next 48 hours.
Over the next five days, there is a 90 percent chance of formation, the agency noted.
The NHC said in the Caribbean: "Disorganized showers and thunderstorms over the northwestern Gulf of Mexico are associated with an upper-level low and a weak surface trough. Little, if any, development of this system is expected before it moves inland along the northwestern Gulf coast tonight or Tuesday. Regardless of development, this system is expected to produce locally heavy rainfall along portions of the central and upper Texas coastal areas later this week."