Hurricane Florence moved closer to the U.S. East Coast on Sept. 10, according to the U.S. National Hurricane Center (NHC) in its 11 p.m. update.
"Interests in the southeastern and mid-Atlantic states should monitor the progress of Florence. Storm Surge and Hurricane watches are likely be issued for portions of these areas on Tuesday," said the NHC.
The storm has Category 4 winds of 140 mph and is moving west-northwest at 13 mph.
"A west- northwestward to northwestward motion and an increase in forward speed are expected during the next couple of days. On the forecast track, the center of Florence will move over the southwestern Atlantic Ocean between Bermuda and the Bahamas Tuesday (Sept. 12) and Wednesday (Sept. 13), and approach the coast of North Carolina or South Carolina on Thursday," according to the NHC.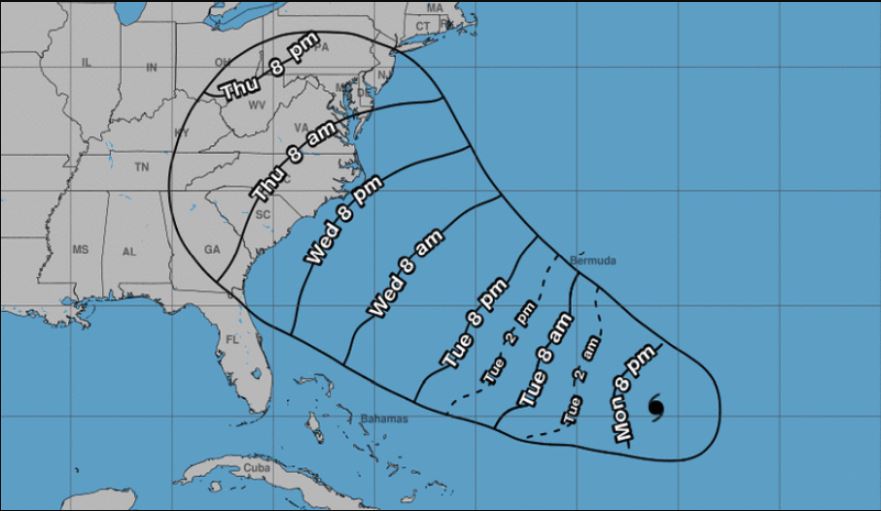 In the next 36 hours, some strengthening is expected.
As a result, Florence "is expected to be an extremely dangerous major hurricane through Thursday," Sept. 13, said the NHC.
"The new intensity forecast calls for continued strengthening to near category 5 strength, although at a slower rate than what occurred during the last 30 hours. Florence is expected to encounter southwesterly shear near the 72 hour point, which could cause slight weakening before landfall. However, there remains high confidence that Florence will be a large and extremely dangerous hurricane, regardless of its exact intensity," said the NHC in its discussion.
The next NHC update for Florence is 5 a.m. on Sept. 12.
Virginia, North Carolina, and South Carolina all declared a state of emergency for their respective states. Maryland on Sept. 10 also declared a state of emergency.
South Carolina Gov. Henry McMaster said on Sept. 10 that evacuations for all coastal zones in the state will begin on Sept. 11, before Hurricane Florence hits.
In a tweet, the South Carolina Emergency Management Division (SCEMD) tweeted that "residents in all coastal evacuation zones in all counties must evacuate beginning at noon tomorrow, Tuesday, September 11, 2018." It added that "The SCEMD website is currently in disaster mode. This helps everyone find vital information more easily."
It comes after McMaster said that mandatory evacuations will be carried out in the zones, WMBF News reported at 3 p.m.on Sept. 10.