The U.S. National Hurricane Center said in its latest update that Hurricane Florence now has 120 mph winds and is a Category 3 storm, located 385 miles southeast of Wilmington, North Carolina.
The storm is moving steadily toward the Carolinas' coastal areas. Most of the North and South Carolina coastlines are under storm surge and hurricane warnings or watches.
According to the NHC forecast at 5 p.m. on Sept. 12, the storm is forecast to slow down near the coast of North and South Carolina before it passes over the states and into Georgia. The forecast "cone of uncertainty" shows that Florence might severely affect the Carolinas, Virginia, Georgia, Alabama, Kentucky, and Tennessee by Monday.
"Data from an Air Force Reserve hurricane hunter aircraft along with satellite imagery and various intensity estimates indicate that Florence has weakened instead of strengthening. However, while the hurricane hasn't strengthened in terms of peak winds, the inner-core and outer wind fields have continued to expand, resulting in an increase the cyclone's total energy, which will create a significant storm surge event. The upper-level outflow remains impressive and is still expanding except toward the south," according to the NHC's forecast discussion.
The states of Georgia, South Carolina, North Carolina, Virginia, and Maryland have all declared states of emergency ahead of Florence.
Jeff Byard, who is the FEMA associate administrator for the Office of Response and Recovery, said that Florence is "a very dangerous storm," Fox News reported. "This is going to be a Mike Tyson punch to the Carolina coast," he warned.
President Donald Trump has states of emergency for North and South Carolina along with Virginia.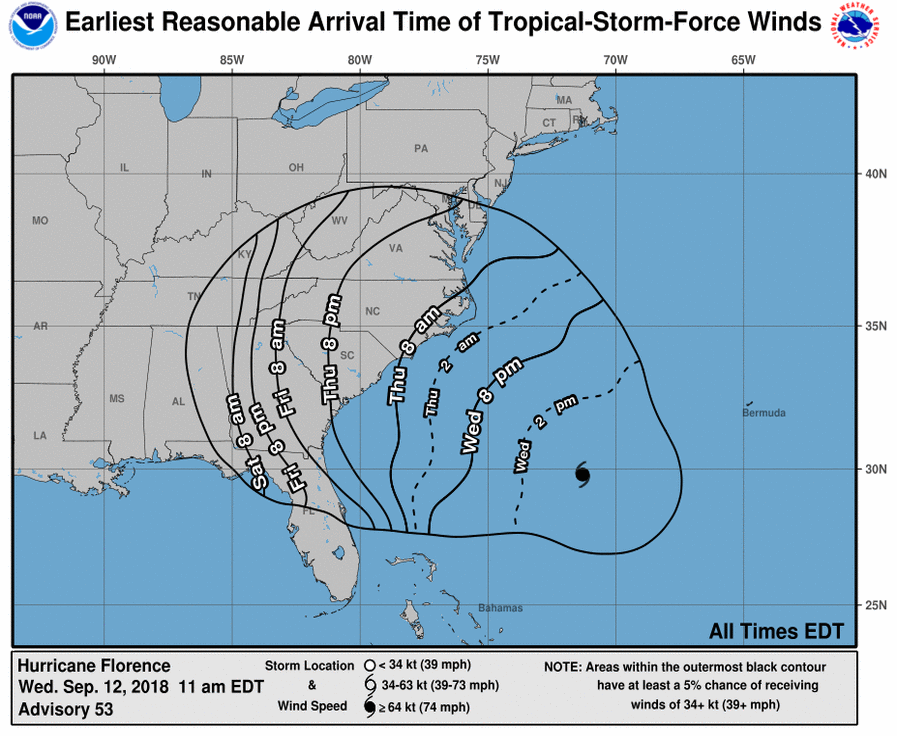 Millions Could Lose Power
Duke Energy told The Associated Press that damage from Hurricane Florence could cut off electricity to three-quarters of some 4 million customers in the Carolinas. The outages could last for weeks.
The country's No. 2 power company said Wednesday that it's anticipating 1 million to 3 million homes and businesses could lose power for lengthy periods, depending on the storm's track.
Duke Energy North Carolina President David Fountain said Florence is so massive and its potential for damage so extensive that people could be without power for a very long time. Fountain said most storms are an inconvenience, "but Hurricane Florence will be a life-changing event for many people here in the Carolinas."
"This will likely be the storm of a lifetime for portions of the Carolina coast," the National Weather Service in Wilmington, North Carolina, wrote on Sept. 11. The flooding in southeast North Carolina and northeast South Carolina might be "unprecedented," according to the agency.
"Strength, track, and forward speed of Florence will be the major players in determining the scope and amount of rainfall and correspondingly the severity of inland flooding," according to AccuWeather forecaster Dan Kottlowski on Sept. 12.
"Precautionary preparations for major flooding are advised," Kottlowski said. "People should expect not only travel disruptions but also disruptions to daily activities related to work or school."
The Associated Press contributed to this report.