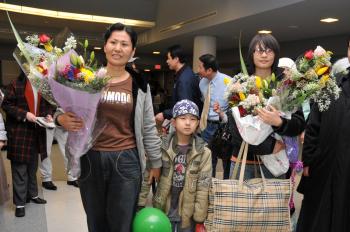 The family of respected Chinese human rights lawyer Gao Zhisheng arrived in New York at JFK airport on Saturday night at about 10 PM.
Gao's wife Geng He, and their two children, aged 16 and 5, began their escape from China weeks ago and finally arrived in the U.S. on Wednesday March 11.
In a complicated and dangerous plan that involved escape on foot, by train and air travel, the three have defected from China to seek safety from the Chinese Communist Party.

Their escape was aided by human traffickers and several groups, including Friends of Gao Zhisheng, the Global Association for the Rescue of Gao Zhisheng, and the U.N. Refugee Agency.
The escape began on January 9, when Geng He and her two children began the trip from Beijing, fleeing for the border to Thailand.
Geng He spoke of a harrowing journey in a Radio Free Asia interview earlier this week. "We left from Beijing. We took the train.

With the help of friends, we escaped the police and slowly and step by step arrived at a second country. Many things happened during that time, but I can't recall them now. We were on the road day and night, and it was very tough. I don't even remember the places we traveled through."
When asked why she decided to escape from China, Geng He said, "The Chinese regime had been monitoring my family closely for a long time, and it had brought great inconvenience to our life and work. My daughter Gege was not able to attend school, and she became self-destructive and suicidal. I had no place to turn to, so I fled with my children."
Gao Zhisheng's whereabouts are presently unknown. Gao was abducted from his home in Shanxi by Chinese police on February 4, and has not been seen since. Gao had been detained previously after having written three open letters to China's top leaders, as well as the U.S. Congress urging Chinese leaders to cease their persecution of Christians and Falun Gong practitioners. He was a top contender for the Nobel Peace Prize last year and was formerly recognized as a top human rights lawyer in China.
It has been over 2 years since Gao's connections to the outside world were cut off by the regime. In May 2007, the American Board of Trial Advocates granted Gao the Courageous Advocacy Award.
In September 2007, Gao was kidnapped again. During the 13 days, he was stripped naked and laid on the floor. He was hit by electron batons all over his body including his genitals, and even had toothpicks stuck into his genitals. When Gao regained consciousness, he found himself soaked in urine.