Houston Texans players are going to protest before Sunday's game against the Seattle Seahawks after owner Bob McNair made controversial remarks, ESPN reported.
In a meeting with other NFL team owners, McNair said that "we can't have the inmates running the prison" in response to the spate of national anthem protests. After reports surfaced of the remark, he apologized.
"I know they were upset," McNair later told the Houston Chronicle after he met with Texans players. "I wanted to answer their questions. I told them if I had it to do over again I wouldn't use that expression."
Texans players on Saturday held a team meeting about how to handle the national anthem. Left tackle Duane Brown told ESPN that "up to 65 to 70 percent" could kneel for the anthem.
He refuted reports that players would remove the Texans stickers from their helmets.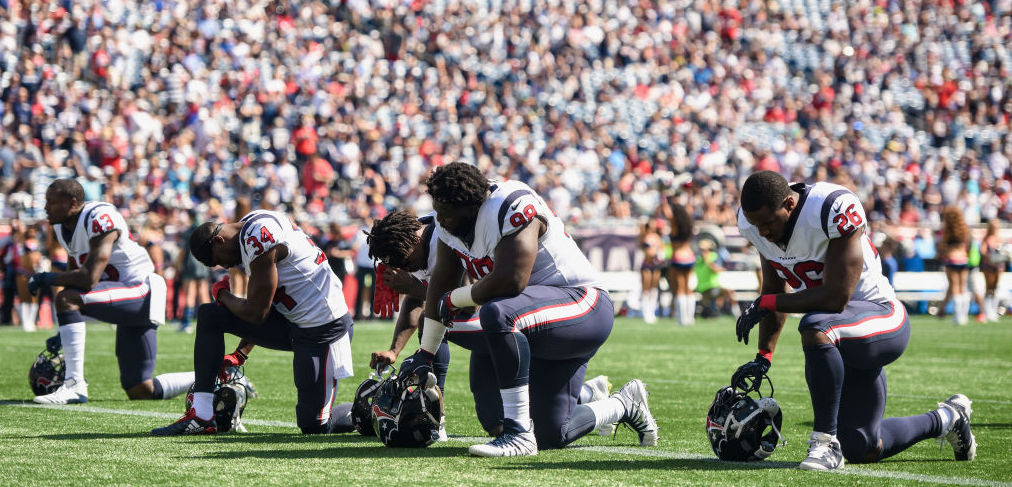 McNair's comment was made public in an ESPN report last week.
During the owner meetings earlier this month, no policy change was made on what players need to do during the national anthem, though, in public remarks, NFL Commissioner Roger Goodell said he'd like players to stand while "The Star-Spangled Banner" plays.
Meanwhile, ex-San Francisco 49ers quarterback Colin Kaepernick, who popularized the controversial gesture of kneeling during the national anthem, will likely be invited to a meeting with the NFL to discuss social issues and protests, the league said on Wednesday, Reuters reported.
NFL spokesman Joe Lockhart told a conference call that a meeting between the league, the NFL Players Association (NFLPA) and players will be held early next week and that he expected the former San Francisco 49ers quarterback to be invited.
"He has been in discussion with the players coalition. I expect he will be invited to this meeting," Lockhart said of Kaepernick, Reuters reported. "We look forward to him joining the conversation with the NFLPA, the league and players coalition but I don't have any confirmation that he is planning to attend."
Kaepernick hasn't been able to land another job in the NFL since he left the 49ers, but he recently signed a book deal worth more than $1 million.
According to NBC's ProFootballTalk last week, Kaepernick inked the deal with Random House's One World, which has also published Jay-Z and Ta-Nehisi Coates. Details about the book or the deal were unclear, and the ex-quarterback hasn't made a public comment on the matter.
Kaepernick also filed a grievance against NFL team owners for collusion, claiming they've tried to "deprive Mr. Kaepernick of employment rights in retaliation for Mr. Kaepernick's leadership and advocacy for equality and social justice," as it was reported by ESPN.
Reuters contributed to this report.