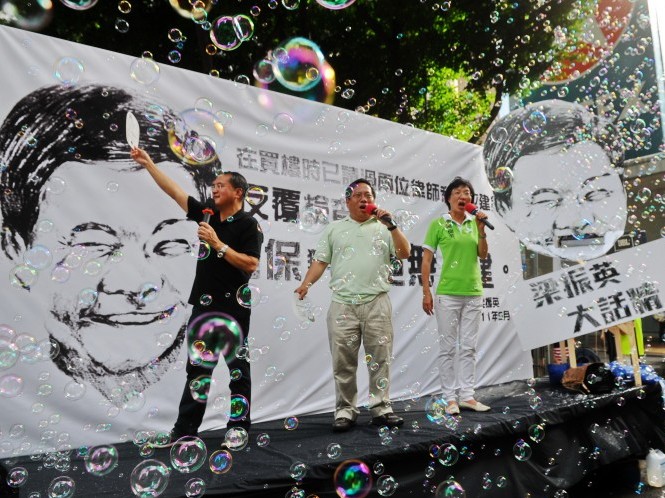 On July 1, hundreds of thousands of people jammed the streets of Hong Kong to protest the inauguration that day of their new chief executive and to voice their dissatisfaction with rule by the Chinese Communist Party (CCP). July 1 is both the date the CCP was founded in 1921 and the date that Hong Kong was handed over to the People's Republic of China 15 years ago.
According to protest organizer the Civil Human Rights Front, the crowd opposing Hong Kong's new chief executive, Leung Chun-ying, numbered around 400,000. Their message for Leung was simple: You're a liar.
In March, Leung narrowly claimed victory in a controversial "small circle" election, in which only 1,200 of Hong Kong's 7 million residents were allowed to vote.
An important element of that campaign was the report that Leung's opponent, Henry Tang Ying-yen, had violated building codes by adding illegal structures to his home. Leung claimed at the time that he had no such illegal additions to his home. The scandal cost Tang votes.
Two weeks ago the Hong Kong paper Ming Pao reported that Leung in fact has illegal modifications to his luxury home. The Independent Commission Against Corruption has since placed Leung under investigation.
The backlash against Leung derives some of its strength from his ties to the CCP. In the week before the election, a book by a former underground Party member in Hong Kong claimed that Leung is also a long-time member of the CCP. After Leung was elected, the CCP-mouthpiece People's Daily referred to him as "comrade," a title only used for Party members.

Growing Discontent
Discontent toward the CCP's rule has been growing in Hong Kong.
A recent poll conducted by the Chinese University of Hong Kong showed that only 30 percent of Hong Kong residents believe that Beijing practices the "One Country, Two Systems" policy that is supposed to guarantee Hong Kong's tradition of civil liberties—ten years ago around 60 percent answered yes to this question.
A poll by the University of Hong Kong's Public Opinion Program found that 37 percent of respondents distrust the central government of Beijing, which is the highest figure since 1997, the year of the hand over to Beijing.
According to another poll by the Public Opinion Program, 68.3 percent of respondents identified themselves as Hong Kong citizens, while less than 30 percent identified themselves as Chinese citizens.
Self-Censorship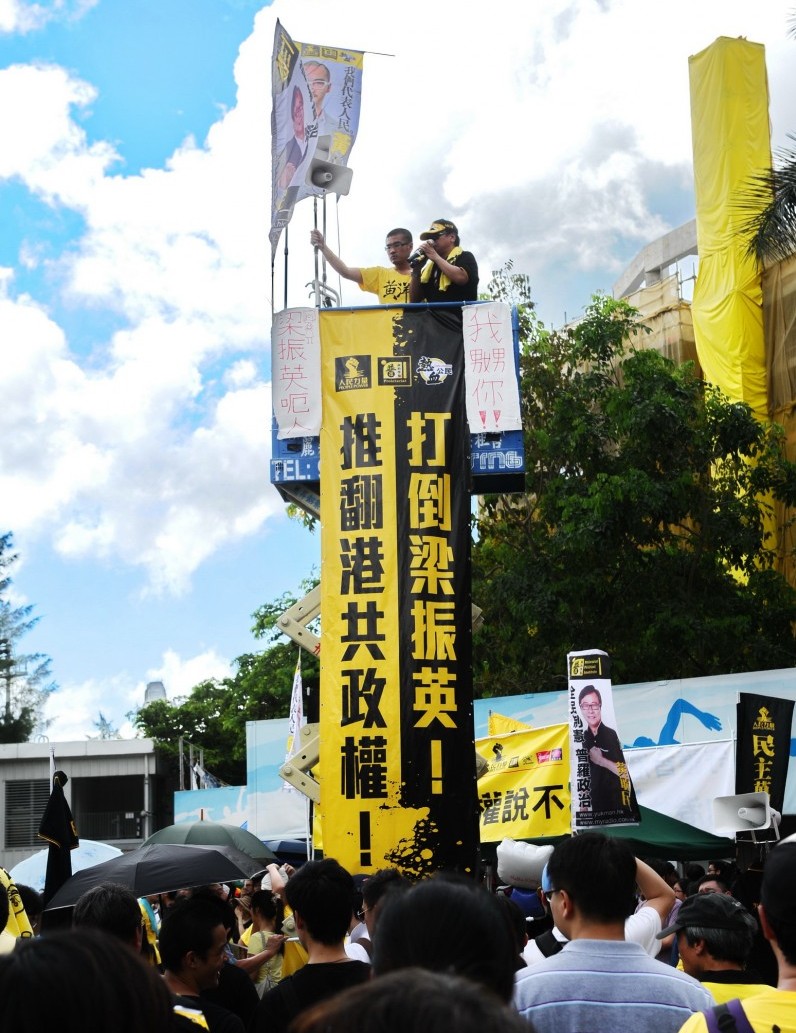 The growing wariness toward Beijing registered by the polls may reflect changes in Hong Kong's institutions, as they come under greater control by the CCP.
A survey released by the Hong Kong Journalist Association showed that 92.7 percent of Hong Kong journalists believe that Hong Kong's freedom of the press has deteriorated, and 71 percent believe that self-censorship exists in Hong Kong's press, the Voice of America (VOA) reported.
Tam Chi Keung, a professor at the Macau University of Science and Technology and former chairman of the Hong Kong Journalist Association, told VOA that due to pressure from the Chinese regime's Liaison Office—the equivalent of an Embassy, the Hong Kong government has imposed an increasing number of restrictions on Hong Kong's media.
Willy Lam, Deputy Chief Editor of Hong Kong's South China Morning Post, told VOA that the degree of self-censorship in Hong Kong's media—in both Chinese and English media, and on television and in newspapers—has grown significantly.
According to Lam, many major media companies in Hong Kong are run by owners with large businesses and investments in mainland China, and so it is in their best interests to maintain good relationships with the Chinese regime's top leadership.
"They don't want to publish reports that criticize China or embarrass its leadership," Lam said.

Leadership Leans Left
Leadership in Hong Kong is beginning to lean more towards the interests of the Chinese Communist Party (CCP).
The Hong Kong Legislative Council consists of 60 official members who are elected and 14 unofficial members who are appointed by the chief executive.
The 14 unofficial members are mostly pro-Beijing politicians. Six are Leung's close allies and seven are members of either the National People's Congress or the Chinese People's Political Consultative Conference, according to the Hong Kong Daily News.
With Leung taking office, Hong Kong will enter its "second transitional period," marking an era of direct Chinese communist rule, said 74-year-old Democratic Party founding chairman Martin Lee, in an Apple Daily report.
Important government positions will be held by a greater number of underground CCP members, as well as those who blindly follow Beijing's orders, Lee said.
Lee also predicted that the Hong Kong government will in two to three years promote a comprehensive education program that brainwashes students—similar to the programs already in place throughout China—and that the CCP will use voters who do not live in Hong Kong to interfere with Legislative Council elections.
The anti-subversion Basic Law Article 23 could even be re-introduced, Lee said, thereby removing Hong Kong's core values, including its rule of law, human rights, democracy, and freedom of speech.
According to a July 1 report published by a Chinese-language dissident website outside China, the Chinese regime's domestic security apparatus and propaganda department set up a project named "peaceful transformation" three years ago, intending to strengthen propaganda and educational campaigns in Hong Kong, while tightening control over dissidents and the media.
The report quoted an insider as saying that although the project was not approved by the Politburo, which rules the CCP, the security apparatus has already implemented part of it in Hong Kong.
Read original Chinese article.
The Epoch Times publishes in 35 countries and in 19 languages. Subscribe to our e-newsletter.
Click www.ept.ms/ccp-crisis to read about the most recent developments in the ongoing crisis within the Chinese communist regime. In this special topic, we provide readers with the necessary context to understand the situation. Get the RSS feed. Get the new interactive Timeline of Events. Who are the Major Players?