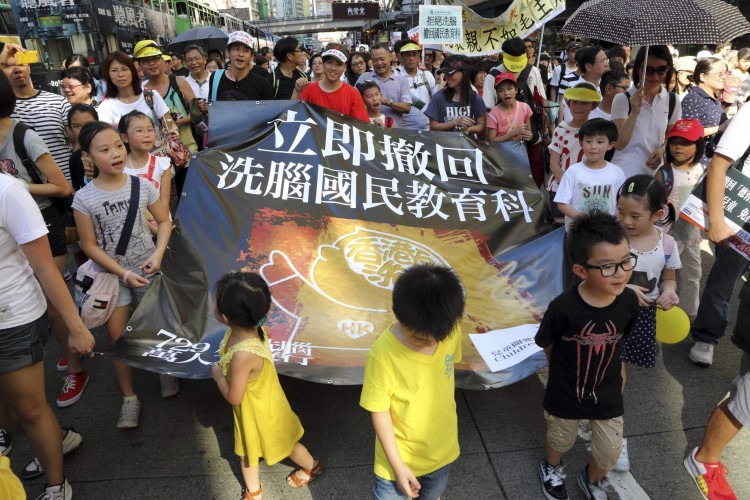 HONG KONG—Tens of thousands of Hong Kong residents, young and old, marched in hot weather Sunday to protest a new program of Chinese national education in schools that they said amounted to brainwashing of children on behalf of the Chinese communist regime.
Protest organizers, made up of over 10 civil groups here, pegged the number of protesters at 90,000 (the police said it was closer to 30,000). The students, parents with young children, and elderly residents, began at Victoria Park and marched on government headquarters in Admiralty. The procession took two hours, from 3 p.m. to 5 p.m., to leave Victoria Park.
The Hong Kong Department of Education announced on May 5 that the national education curriculum would become mandatory in elementary schools beginning in September, before being introduced into middle schools next year.
According to participants, there is no need for the new "Moral and National Education" curriculum that the government plans to introduce in schools. The curriculum mirrors the patriotic education given to students in mainland China, glorifying the Chinese Communist Party and criticizing democracy.
If the plan goes ahead it will be introduced to some elementary schools in September, before being mandatory for all public schools by 2016.
Carrying his 2-year-old daughter, protester Mr. Zhong told The Epoch Times: "I don't want my daughter to grow up thinking that one-party rule is good. I don't want her to believe that no one died during the Tiananmen Square massacre, and that the Chinese Communist Party equals China. … I'm afraid that my daughter might not know the truth, might not know history, might not know how to think independently, or to tell right from wrong."
Zhong's concerns reflect those widely held in Hong Kong, with mainland China's increasing encroachment on the archipelago, which is supposed to be governed by a "one country, two systems" policy that guarantees Hong Kong's civic freedoms.
Hong Kong Professional Teacher's Union (HKPTU) conducted a survey from June 27 to July 15 last year, collecting opinions from elementary school teachers on the national education proposals. Of the 2,383 teachers surveyed 70 percent opposed the idea, while 18 percent supported it.
"The process of formulating these new classes gave people the feeling of 'politics over education,'" HKPTU said in a note accompanying the survey on Aug. 9, 2011.
The survey found that 67 percent of teachers were concerned or very concerned that the curriculum could become a tool for brainwashing.
Some pro-communist groups put the matter in such terms themselves. Jiang Yudui of the pro-Beijing China Civic Education Promotion Association of Hong Kong prior to the protest answered critics: "If the brain has a problem then it should be washed, just like you wash clothes when they're dirty, and if your kidney is sick then it is washed."
Lam Siu Pan, deputy secretary-general of Hong Kong Federation of Students, Hong Kong's largest student organization, told Radio Free Asia that the Department of Education had tried to push national education without asking educators and the general public, and Hong Kong students can't just stand by and watch.
"This class violates the spirit of teaching students to think critically and to identify right from wrong. By pushing this brainwashing education, the Hong Kong government will make the next generation unable to stand up against the government, and Hong Kong citizens will have to pay the consequences."
Six large education-sponsoring bodies, including the Hong Kong Catholic Diocese, Anglican Church, Evangelical Lutheran Church, and Hong Kong Buddhist Association, all announced that they would not support the curriculum, according to a Radio Free Asia report on July 19. These account for a total of 150 schools; 30 percent of all elementary schools in Hong Kong.
Last August the chairman of the Hong Kong Democratic Party Albert Ho said that national education is an ideological weapon of the Chinese Communist Party (CCP). As the CCP is losing its authority to rule, he said, so it must create a new ideological system—patriotism and nationalism—to instill patriotic doctrine in free Hong Kong citizens.
The teachers union continues to call on the Education Minister Eddie Ng for serious dialogue with teachers and parents on the topic. They said they would consider all options, including a strike, to have the curriculum withdrawn.
Read original Chinese article.
The Epoch Times publishes in 35 countries and in 19 languages. Subscribe to our e-newsletter.  
Click www.ept.ms/ccp-crisis to read about the most recent developments in the ongoing crisis within the Chinese communist regime. In this special topic, we provide readers with the necessary context to understand the situation. Get the RSS feed. Get the new interactive Timeline of Events. Who are the Major Players?