Hong Kong Youth Development Players Show Their Lawn Bowls Skills
Lawn Bowls—U25 Pairs Championship
July 24, 2013 10:25 am Last Updated: July 24, 2013 10:25 am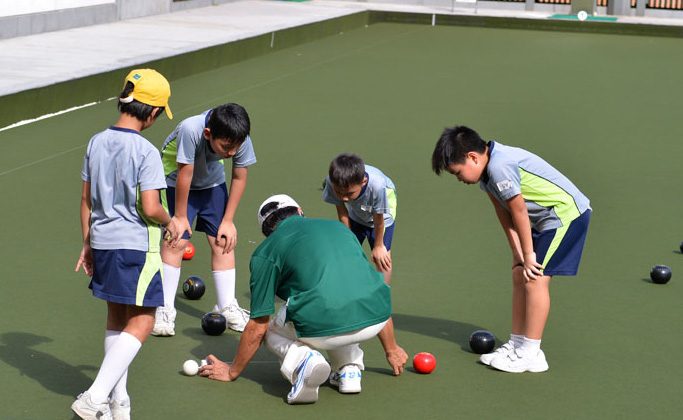 It was a real pleasure to see so many youngsters playing and enjoying their matches in the Hong Kong Lawn Bowls Association U25 Championship at Tseung Kwan O green, which ended last Sunday night July 21.
Under the Hong Kong Youth Development program, 86 players ranging in ages from 8-25 years old took part in this pairs competition over two consecutive Sundays, July 14 and July 21. On day one there were 43 teams: six in Group-A (8-11 age group), 10 teams in Group-B (12-14), 13 teams in Group-C (15-17) and 14 teams in Group-D (18-25).
On the final day on Sunday July 21, 18 teams took part with six in Group-A and four in each of the other age groups (B, C and D). The format of the competition was a round-robin 3-wood pairs competition, with each game being played over eight ends of lawn bowls. The winning team of each match earned two points, while one point was awarded for a drawn game.
It was a long day of bowling for all of the competitors, lasting from 9.00am until after 6.00pm, when the final positions were known. All participants did exceedingly well to maintain their concentration and skill level over such a long time period.
Best etiquette awards were presented to the pairs Lee Chi Ming and Tam Wing Chui, Lyndon Tsang Wai Chung and Isaac Sham Wang Yin, Tiffany Tsui and Crystal Li, and Amy Choi and Andrea Chan.
Group A
The mixed pairs team of Ellis Chan Yat Fung and Cheung Hiu Lam won the 8-11 age group (Division A) event with nine points, just ahead of Tsui Tsz Ming and Alvin Tam on eight points in second. Lee Chi Ming and Tam Wing Chui were third on seven points. The third-placed pair had played very well all day, but lost to the runners-up in their final match.
Chan is 7 years old and has been playing Lawn Bowls in Tun Mun for about one year. His mother Phyllis Leung told the Epoch Times how proud she was.
"It is Ellis's first time to join the competition, so he has done very well," said Phyllis who explained that her son was hungry and tired having not yet had lunch.

Group B
In the 12-14 age group (Division B) competition, the boys team of Lyndon Tsang Wai Chung and Isaac Sham Wang Yin won all of their matches on the final day to take the title.
Lyndon Tsang is also a champion of the inter-schools competition 2013 and represented Yan O Tong Tin Ka Ping Secondary School in that competition, he explained to the Epoch Times how he came to learn to bowl.
"I have only been playing about one and a half years. I joined the Youth Development Team and will train two times per week, on Wednesday and Sunday at Tun Mun club and play for two hours," Lyndon said.
Although he won the competition, he said that he was disappointed with his performance in this competition.
"I did not play as well as I did in the inter-schools competition—I want to play better and win more championships in the coming years," he declared.
Runners-up were Chan Ka Yan and Tse Tun Lamm, while third-place went to Chan Ming Yi and Niclole Muk.
Group-C
The defending champions Tiffany Tsui and Crystal Li maintained their winning form to capture the 15-17 age group (Division C) tile for the second consecutive year. They looked confident and won all of their matches with ease showing that they are worthy champions.
Runners up in this group were Cherry Tsoi and Tiffany Lau, who won two matches, but lost their match against the eventual champions. Third-place went to Rella Choy and Cinder Choy.
Group-D
Scores in the 18-25 age group (Division D) were particularly close and at the start of the last round of matches all teams were equal on points. The competition in this age group was intense, with some high-level bowling skills on display and great concentration shown by all competitors.
The winners in this age group were Lee Ka Ho and Adrian Yau. Lee, who plays for the Kowloon Green Bowling Club, was a member of the team that won the Men's National Fours competition in 2012. Meanwhile, his partner in this round robin competition Yau is 18 years old and plays for the Youth Development Team in adult competitions.
Yau told the Epoch Times how he enjoyed the event.
"The best part of the tournament is that all of the players played consistently well and we have great fun playing six or eight ends round robin games," said Yau.
All matches were played in excellent spirit with some happy faces and smiles as the matches progressed, but there was also determination on the faces of many competitors at crucial times in the matches—a very good day for Hong Kong Lawn Bowls.
Runners up in Group-D were Andre Szeto and Jason Choi, who finished on the same points as the winners, but were relegated to second place on game-points difference. In third-place were Ken Chan KK and Wilson Lau.