Hong Kong University Student Threatened for Supporting Tibetan Rights
April 28, 2008 12:00 am Last Updated: April 28, 2008 12:00 am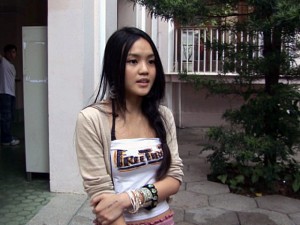 HONG KONG—After Duke University student Wang Qianyuan called out to China's students for Tibetan rights, Chen Qiaowen, a philosophy major at Hong Kong University also stood up to protest the CCP's persecution of the Tibetan people. She plans to bring her self-made Tibetan Snow Lion flag to peacefully protest during the Olympic Torch procession.
Chen received inquiry calls from Hong Kong police, as well as threatening comments from web users. The Snow Lion flags that she posted at Hong Kong University were also removed and destroyed during the night.
Supporting Tibetans' Rights to Determine their Own Future
Twenty-one-year-old Chen was born in Hong Kong. She attended elementary school there and continued her middle school education in England. Currently she is a college junior enrolled at Hong Kong University and is majoring in philosophy. She visits mainland China often.
The news that Chen is planning to attend the Olympic Torch demonstration, which was announced on April 24 by Hong Kong media, sparked widespread interest throughout the world. That day, when interviewed by Epoch Times staff, she said that her creation of the Snow Lion flag does not focus on Tibetan independence, but on the fact that Tibetans should be free to determine their own future.
Chen also says that it makes her deeply disappointed to see that the Chinese Communist Party (CCP) has not lived up to its commitment to improve human rights after winning the rights to host the Olympic Games. Instead, people are constantly being arrested and sentenced such as Hu Jia, an activist for AIDS patients' rights and media worker Shi Tao. In fact, the CCP is forcing Beijing residents to move under the guise of Olympic Construction and arresting those who protest their eviction and unfair compensation rates.
"I think that it's terrible how they are evicted from their own homes."
"In Tibet, you will be arrested if you are holding the Snow Lion flag. I think that we should stand up for Tibetans' rights, to some degree. The first reason is that we are responsible to help them, and secondly if Hong Kong does not speak out, it will become like China."
Concurrent to Chen's announcement of her joining the protest, the Student Union of her university issued a declaration toward compatriots of the Beijing Olympics on April 23, calling on Beijing to release protesters.
Chen continued, "The CCP itself boycotted Moscow's Olympics in 1980. It is unreasonable to say that others are 'getting political' when they are only doing what you did before."
About the series of political protest against the Olympics, she adds, "What's most political is engaging in nationalism."
Received Enquiries and Threats from Authorities and Web Users
Since Chen announced her protests on Facebook, she has received threatening comments from other web users. After the incident where Tibetans were attacked for their protest against the CCP's despotic rule, she posted Snow Lion flags and words of protest all over the Hong Kong University campus, but they were all torn down within one night.
On April 25, she received inquiries from Hong Kong's police department by phone.
"The Hong Kong police called me earlier today and told me that it was an emergency and that I should call them back. When I called them back, they said that they wanted to confirm whether or not I accepted an interview from the Apple magazine. They told me to meet them at the police station the next afternoon."
Supporting Wang Qianyuan and Putting Fears Behind
On the topic of Wang Qianyuan calling out for Tibetan rights, Chen remarks, "This girl is innocent. I feel that she merely wanted the two opposing sides to communicate with each other. Apparently, certain people who strongly support the CCP are provoked by her actions. I think that the people who have been threatening or harassing Wang Qianyuan and her parents have displayed extremely uncivil behavior."
Chen is unsure of whether she is worried about becoming the "second Wang Qianyuan," but emphasized that she would not give up on her efforts.
"You can't surrender to evil forces. There's hardly difference between supporters of the CCP and terrorists. They threaten you to force you to do what they want, and I think that is highly unacceptable. We will not be afraid for we do not want to live in fear."