This article has been updated with the latest information.
Hong Kong police fired pepper spray, tear gas, water cannons, and made about 370 arrests as protesters defied a police ban to march against Beijing's new national security law on July 1.
Hours after the law came into effect in Hong Kong, local police arrested ten on suspected crimes under its provisions.
Large crowds swarmed the area of Causeway Bay where the march was due to start. But for the first time since mass protests began in June last year, protesters were being targeted for chanting slogans such as "Hong Kong Independence, the Only Way Out." Hong Kong police warned that such slogans could "incite or abet" others to commit "secession" and thus violate the national security law, in a Facebook post at around 2:20 p.m. local time.
In defiance, some protesters unfurled flags with the words "Hong Kong Independence" and chanted related slogans as they waited to march onto the streets.
#HongKongPolice have already raised new purple flag at peaceful #July1st pro-democracy march attendees – threatening prosecution under #NationalSecurityLaw. https://t.co/qWuY8krCwY

— The Epoch Times Hong Kong (@EpochTimesHK) July 1, 2020
The national security law went into effect late June 30 after ceremonial votes by China's rubber-stamp legislature, the National People's Congress (NPC). The law criminalizes individuals for any acts of subversion, secession, terrorism, and collusion with foreign forces, with maximum penalties of life imprisonment.
Arrests
The police initially announced over 70 arrests, with 2 on suspicion of violating the new law.
A man was arrested in Causeway Bay at around 1:30 p.m. local time for possessing a banner with the words "Hong Kong Independence." Then, a woman was arrested at around 3 p.m. local time for holding up a placard with the words "Hong Kong Independence," with a British national flag and a U.S. flag attached to it, according to police.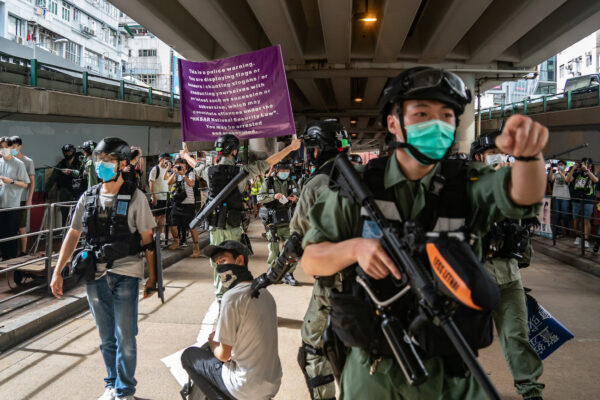 In the evening, police updated its arrest figures and announced details about three more of those arrested for violating the national security law: two 36-year-old women and a 15-year-old girl were detained at around 3 p.m. local time in Causeway Bay.
The two women had in their possession different flyers, including those with the words, "Resist Beijing, Liberate Hong Kong," according to police. The girl was arrested for waving a flag with the words, "I Stand for Hong Kong's Independence."
Other arrestees were detained on charges such as "illegal assembly" and "interfering with police work," according to police.
As night fell, some protesters tried to set up roadblocks with random objects including rails and bricks in Causeway Bay, and police countered by firing tear gas to disperse crowds and clear debris off the roads.
Police also charged into nearby malls to make arrests.
March
For years, people in Hong Kong have held a march on July 1, which marks the day of Hong Kong's return to Chinese sovereignty in 1997, to voice opposition to Beijing's encroachment over the city's affairs.
Local pro-democracy group Civil Human Rights Front (CHRF), which has been the organizer for most of the July 1 marches in the past, drew a crowd of more than half of a million people last year who voiced their opposition to the government's now fully-scrapped extradition bill.
Police rejected CHRF's application to holding a march this year, saying it had a "potential for violence" and would violate a local gathering limit of 50 people to prevent the spread of the CCP (Chinese Communist Party) virus, commonly known as the novel coronavirus.
"CHRF absolutely disagrees with the decision of police commissioner. Everyone knows that public health is only an excuse to deprive our civil liberties under the National Security Law," CHRF announced in a statement on its Facebook on June 30.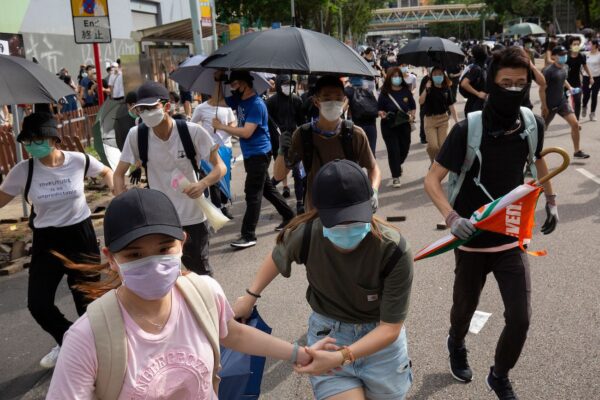 With CHRF failing to secure police approval, several Hong Kong activists announced that they would be the organizers of a march from Causeway Bay to the city's Central district anyway, so people could voice their opposition against the national security law.
While protesters did start their march on Wednesday afternoon from Causeway Bay while being led by local activists including lawmaker Eddie Chu and CHRF's deputy convenor Figo Chan, the march was short-lived as local police officers moved in to disperse protesters by spraying pepper spray and firing water-cannon.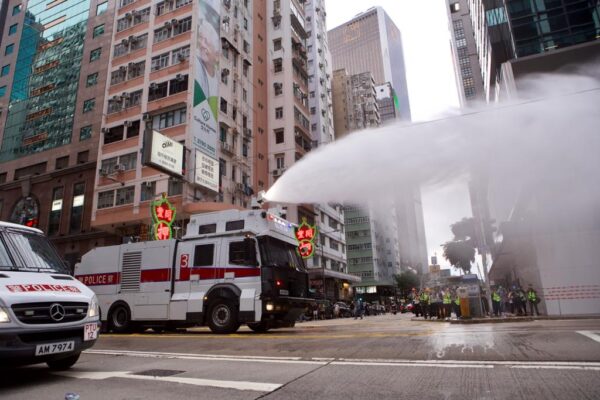 At around 4 p.m. local time, Hong Kong media reported that their journalists were hit with police's water cannon in Causeway Bay as police tried to clear protesters off the streets.
Half an hour later, local trade group Hong Kong Journalists Association (HKJA) issued a statement, criticizing the police for resorting to violence against multiple journalists, saying they were injured when they were hit by police's water-cannon and pepper spray.
HKJA called on police to stop interfering with the work of reporters so they can exercise their fourth estate duties.
City Leader Comments
As Hongkongers were out on the streets, Hong Kong leader Carrie Lam held a press conference at about 2 p.m., arguing that the law "has perfected" the framework of "one country, two systems." Lam was flanked by Security Secretary John Lee and Secretary Justice Teresa Cheng.
Lam announced that a national security department has been established within the Hong Kong police, as mandated by the national security law. She declined to reveal who will head the department.
According to Articles 16 and 17 of the new law, the head of the new national security department should be appointed by the city's chief executive, a position currently held by Lam. The department will have a number of powers, including investigating crimes against national security.
Article 48 also stipulates that Beijing establish a security bureau to collect intelligence, coordinate with local authorities, and handle national security cases.
Lam added that Hong Kong still has the responsibility to enact an anti-subversion legislation, known as Article 23.
It was first proposed in the Hong Kong legislative council in 2003. But it was scrapped that year after half a million Hongkongers took to the streets in protest.
The Hong Kong edition of The Epoch Times contributed to this report.