Hong Kong police have ramped up their tactics by deploying rifles and other more harmful weapons for the first time against protesters during violent weekend confrontations at a Hong Kong campus.
In an ongoing standoff since Saturday, Nov. 16, police continued to besiege the Polytechnic University (PolyU) campus on Nov. 18, firing tear gas and projectiles and deploying water cannons.
The protesters had blocked one of Hong Kong's major highways, the Cross Harbor Tunnel linking Hong Kong island to the Kowloon peninsula, for much of last week, in an attempt to pressure the government into answering their demands.
On Sunday evening, police issued an ultimatum for protesters to leave the campus. Having sealed off roads in the area, police essentially trapped hundreds inside.

At different points throughout Monday, dozens staged daring escapes from the university campus, sealed off by police, by scaling gates or dropping ropes from a footbridge and climbing down. Some then fled on waiting motorbikes as the police fired projectiles.
Derek Liu Kin-kwan, president of the PolyU student union, estimated that about 500 to 600 people were still trapped inside the campus as of Monday evening.

Weapons
Police also deployed new weapons. Videos circulating on social media on Monday showed what appeared to be stun grenades exploding on campus, a device meant to disorient crowds that could cause temporary blindness and deafness.

A police spokesperson didn't deny or confirm whether the weapon spotted was a stun grenade, during a Nov. 18 press conference, when a reporter asked about it and other weapons that police were seen carrying, such as rifles. But he said that "officers have been equipped with such weapons all along," and that they could mobilize snipers and special duty units if necessary.
"We have always had the capacity, and would use it if a need calls for it," he said, and warned citizens against going near the area.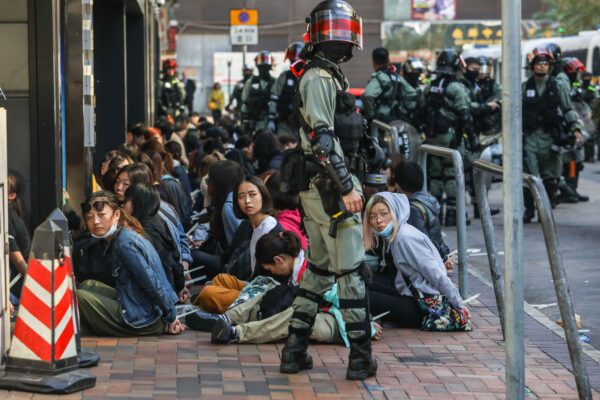 Since Sunday, riot police were seen carrying rifles. Human rights group Amnesty International verified on Monday that this weapon was a rifle that "only fires live ammunition," in contrast to the revolvers that police have used before, marking "an escalation of force," the group said.
A day prior, police also deployed a sonic device fixed atop an armored truck. The loud, shrill sound lasted for about three seconds. Epoch Times reporters at the scene described experiencing a muffling sensation and headaches. The police have said in a statement that it's not a weapon, but a broadcasting system.

Police warned the public on Sunday not to 'assist rioters in any way" or risk facing the charges of "Taking Part in a Riot," which is punishable by up to 10 years in jail. They have also stated that if protesters continue to commit "dangerous acts, we are left with no choice but to use the minimal force required, including the use of live rounds to fight back."
Man-Kei Tam, the director of Amnesty International Hong Kong, condemned the police for laying siege to the university and firing pellet rounds at fleeing protesters on Nov. 18, saying that the police are "yet again fanning the flames of violence when they should be trying to defuse it."
"At a time when Hong Kong needs level-headedness and humanity from those in power, it is instead getting tear gas, beatings and threats of lethal force," he said in a statement.
Hong Kong's Hospital Authority said the city's hospitals have received 116 injured people during the clashes on Monday.
Hongkongers Help
On Monday evening, a large crowd of Hong Kong citizens formed a human chain on Jordan Road near the campus to pass supplies to the protesters stuck inside PolyU.

Jasper Tsang, a pro-Beijing politician and former president of the city's legislature, was allowed on campus to serve as a mediator along with legal scholar Eric Cheung. He took away about 20 students with him on Tuesday morning, local broadcaster RTHK reported.
Earlier on Monday at lunchtime, hundreds of protesters, including those clad in black and office workers, took to the business district of Central, shouting slogans of "save PolyU" in a sign of solidarity with protesters at the school.

Anti-Mask Ban
Also on Monday, the Hong Kong High Court declared that a mask ban prohibiting citizens from wearing facial masks during public gatherings—which Hong Kong leader Carrie Lam implemented in October—is unconstitutional. Hours after the court ruling, police said that they will stop enforcing the mask ban.
There are only three cases of people being arrested solely for breaching the mask ban, according to the police, with only one charged. The police said it would discuss with the Department of Justice how to deal with those cases.

Police have arrested 4,491 people since mass pro-democracy protests erupted in June, on charges such as rioting, possession of offensive weapons, setting up fires, and attacking officers. Their ages vary from 11 to 83.
Responses
China's foreign ministry spokesperson on Monday reiterated its support for the Hong Kong authorities. He said at a press conference that the foreign ministry supports "the Hong Kong police in strictly enforcing law, and the Hong Kong judiciary in bringing violent criminals to justice according to law," repeating its oft-used rhetoric about the Hong Kong protests. He also dismissed criticisms of Beijing by Western officials as "slander" and foreign meddling in "domestic affairs."
China's Ambassador to the U.K. Liu Xiaoming also repeated the Chinese regime's narrative that foreign countries are fomenting the unrest, at a London news conference on Monday.

Speaking at a press conference on Monday, U.S. Secretary of State Mike Pompeo urged the Hong Kong government to "take clear steps" to address public concerns.
"Unrest and violence cannot be resolved by law enforcement efforts alone," he said. He said the Chinese government must honor its promises to the people of Hong Kong, "who only want the freedoms and liberties they have been promised."
Reuters and the Hong Kong bureau of The Epoch Times contributed to this report.