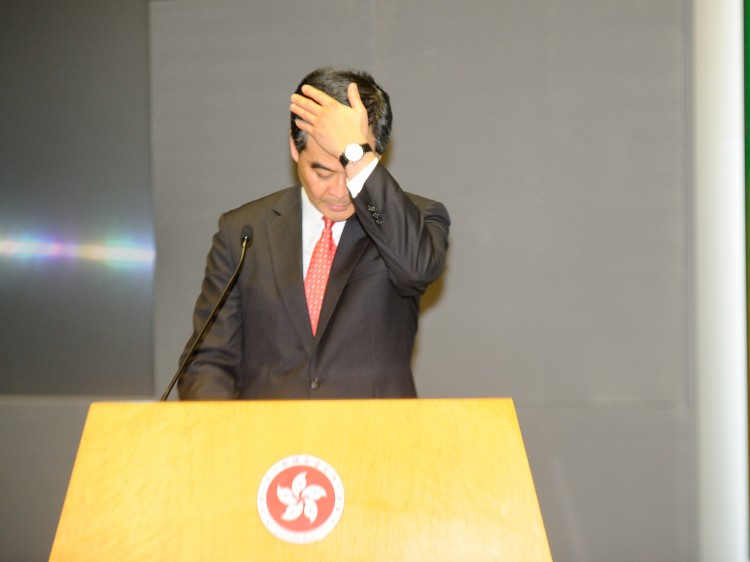 Scandals have already begun to emerge in recently appointed Hong Kong Chief Executive Leung Chun-ying's government, only three weeks after he took office, with reports suggesting that Beijing is seeking to replace him in the coming months.
Rumors have spread that Beijing is considering implementing a "plan B" and may oust Leung. The Chinese regime sent a top representative official, Wang Guangya, the head of the Hong Kong and Macau Affairs Office, to the city of Shenzhen to dispel such rumors, according to Hong Kong-based media.
During the Shenzhen trip, Wang met members of Hong Kong's pro-Beijing camp or pro-establishment camp—which supports the policies and views of the CCP—telling them to give Leung's administration their full support and not attack his leadership in light of the upcoming legislative elections in Hong Kong. Meanwhile, there is no "plan B" to remove Leung from power, Wang insisted.
Leung's inauguration day was met with mass protests as many Hong Kong residents believe that he is a member of the Chinese Communist Party (CCP) and has been under investigation over illegal building additions in his luxury residence. He has stated that no unauthorized construction was done in his home, but it was discovered that there was a 2,250-square-foot basement and other additions.
According to rumors reported by Ming Pao, members of Hong Kong's pro-Beijing camp are concerned that the CCP might strip Leung of his power within 100 days to six months after his taking office.
A possible "plan B" might be implemented by Beijing due to Leung's poor performance from the outset, and Wang's damage control trip shows that the situation is actually critical, political commentator Willy Lam at Japan's China Studies at the Akita International University told Radio France Internationale.
However, Leung will not be replaced right away because it would make the situation more unstable than it is now, Lam said. His ouster might come after the transfer of power during the CCP's 18th National Congress, he added.
More than a week ago, Mak Chai-Kwong, the Secretary for Development of the Hong Kong Special Administrative Region, who was appointed by Leung, resigned over corruption charges only 12 days into his tenure. Some members of Leung's pro-Beijing camp left and joined the opposing pro-democracy camp.
Before he took office, Leung was said to have promised the CCP that he would push to pass the controversial Article 23 legislation that restricts the political and religious freedom of groups that are disapproved of in mainland China, according to Hong Kong media reports. 
Leung also wanted to push the National Education mandate, which, among other things, would require elementary and secondary students to study the calligraphy of former CCP dictator Mao Zedong to learn about "the perseverance and hardworking spirit of Chairman Mao." The mandate has already received strong criticism from students, teachers, and parents.
Leung has denied the allegations that he was given these orders by the communist party's central leadership.
The Epoch Times publishes in 35 countries and in 19 languages. Subscribe to our e-newsletter.