Hong Kong Human Rights in Trouble, Report Says
March 8, 2013 12:52 pm Last Updated: October 1, 2015 10:55 am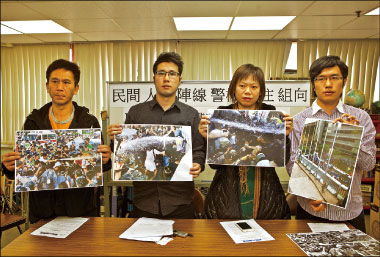 Two Hong Kong political groups will travel to Switzerland next week to report to the United Nations the current human rights situation in Hong Kong. They criticize the Hong Kong government for intensifying political prosecutions, and are calling for international attention to the matter.
On March 11 the U.N. Human Rights Committee (UNHRC) will review how the "International Covenant on Civil and Political rights" is followed in Hong Kong. Members of Hong Kong's Civil Human Rights Front and the Democratic Party will give evidence.
Hong Kong police often use pepper spray and high water barriers against protesters. Mr. Wong Ho-Yin, the vice-convenor of the Civil Human Rights Front, who is going to Switzerland, said that Hong Kong police increasingly use excessive violence and infringe upon the human rights of protesters, and he will report this to the U.N.
"Why do the police use a large amount of pepper spray to hurt peaceful protesters? Why do they use water barriers to surround the protesters and then spray them with pepper spray, leaving them no way to escape? The U.N. should pay attention to this," Wong said. 
The report that the Civil Human Rights Front prepared has five key points.
According to the report, Hong Kong police selectively target certain protesters, based on politics. The police use a "Public Order Ordinance" to harass and arrest protesters. They abuse their power to arrest people to disband gatherings and marches, he said. 
As well as using excessive force, Wong claimed, they also make what he called unreasonable arrangements meant to interfere with the process of marches and protests.
The Independent Police Complaints Council, with its limited power, has not effectively monitored how police exercise their power, Wong said. Police video record marches without explanation, and some worry that the police plan to set up a monitoring network.
The Civil Human Rights Front Police Powers Monitoring Group will also express to the UNHRC their concern about how the police have in recent days charged protesters, who were eventually given heavy sentencing by the court. Young protesters have been sentenced to rehabilitation centers for reeducation, and human rights veteran Koo Sze Yiu was sentenced to nine months imprisonment for destroying the People's Republic of China flag.
Wong said, "This nine months in prison is clearly a conviction based on speech. Using standards of Amnesty International, I think Koo Sze Yiu meets the definition of a prisoner of conscience."
He hopes that international intervention will pressure the Hong Kong government to protect the basic human rights of Hong Kong people. The Civil Human Rights Front will meet with the Independent Police Complaints Council today to express their dissatisfaction with what they called the police's abuse of power.
The Epoch Times publishes in 35 countries and in 21 languages. Subscribe to our e-newsletter.