HONG KONG—On April 21, 2007, over 1,500 people in Hong Kong participated in a rally and parade in support of over 20 million people having withdrawn from the Chinese Communist Party (CCP). The event was organized by the Global CCP Renunciation Center and The Epoch Times .
"The CCP has already completely rotten that it has decayed," declared Chairman Szeto Wah of the Hong Kong Alliance in Support of Patriotic Democratic Movement in China. He went on to explain that the irreversible tidal wave of democracy, freedom, human rights and the rule of law will definitely bury the CCP.
CCP Will Be Buried By the Tide of Democracy
Szetso pointed out that this despotic autocracy— a one-party dictator-driven communist political power—cannot escape from the law of history. "The communist regimes left in the world include only North Korea, China, Vietnam and Cuba, proving that the tidal wave of democracy, freedom, human rights and rule of law cannot be reversed," said Szetso. "Communist regimes are bound to be buried by this tide."
"There have been over 20 million people having withdrawn from the CCP and its affiliated organizations," said Szetso. If it were not due to a carefully closed-up environment, fear and hesitation, he believes that the number of withdrawals would be many times more. Currently, many CCP members have already quit the party in their ideology, and remain loyal due to a handful of vested interests."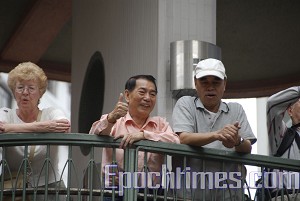 "There will not be a democratic China if the CCP does not disintegrate," concluded Szeto.
A guest speaker, Lin Yongran, District Councilor for the Democratic Party said, "In fact, the CCP is very weak now." Lin believes that, through diplomatic means, the CCP can continue to lure foreign governments with economic interests, thereby lessening their condemnation of the CCP on the international stage. Lin explained that, driven by profits, the U.S. and Europe now rarely protest or criticize the CCP's violation of human rights.
Lin also pointed out that many believe China's current economy is prospering, yet in reality, only a small and elite group truly benefits. As CCP policy only allows wealth to these few individuals, the lives of many in China are still quite difficult. Lin stressed that there cannot be a good standard of living without a good political system.
Lin also said that now no CCP member supports communism. He hopes that current CCP members will break away from the organization and put an end to rampant corruption in the country. He believes that this will lead to China's true prosperity.
After the rally, a parade in support of the over 20 million people who have withdrawn from the CCP was led by the "mighty Tian Guo Marching Band." Starting from the territory's Victoria Park, the parade passed through Wanchai, Admiralty, Central, Sheung Wan, and ended with a protest in front of the Liaison Office of the Central People's Government in Hong Kong's Special Administrative Region in Sai Wan.