Falun Gong Rights Threatened in Hong Kong
September 12, 2011 9:45 am Last Updated: October 1, 2015 3:40 pm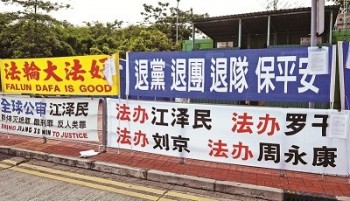 HONG KONG—Every day in Hong Kong busloads of tourists from mainland China visit popular tourist sites where they encounter adherents of Falun Gong (also known as Falun Dafa) who have set up display boards and banners that tell about the spiritual practice and its persecution in China. If a new interpretation of a Hong Kong ordinance is allowed to stand, then such use of what are termed "roadside non-commercial publicity materials" will be banned, putting a crimp in the Falun Gong practitioners' efforts to tell their story and limiting the rights of all Hong Kongers.
According to Hong Kong Falun Gong practitioners, on Sept. 2 staff from the Food and Environmental Hygiene Department (FEHD) issued notices to different sites where practitioners have displays, including in front of the Liaison Office to Beijing (the Liasion Office is equivalent to China's Embassy in Hong Kong), the Sogo Department Store at Causeway Bay, and the Wan Chai Bridge near the Immigration Department.
The notice stated that FEHD will step up enforcement of Section 104A of the Public Health and Municipal Services Ordinance and demanded that the banners and display boards be removed. Violators could receive a maximum fine of 10,000 yuan (US$1,565) and a daily fine of 300 yuan (US$47).
As of Sept. 8, Falun Gong practitioners at about a dozen locations in Hong Kong have received similar notices. At one of the sites, about a dozen staff members of FEHD arrived and attached Chinese and English-language versions of the notice onto the banners and display boards. They demanded that the Falun Gong practitioners remove the banners immediately because of the upcoming district council elections and remained for an hour. They also warned that they will soon take action.
The practitioners' activities at these sites began after the then-leader of the Chinese regime, Jiang Zemin, launched a campaign in July 1999 to "eradicate" Falun Gong. The practice, which consists of doing five meditative exercises and studying teachings based on the principles of truthfulness, compassion, and tolerance, had become very popular in China—in early 1999 an official with China's Sports Administration indicated 100 million had taken it up. Some analysts say Jiang feared it posed a threat to the CCP.
The practitioners call what they are doing at the sites around Hong Kong "clarifying the truth." They seek to disabuse Hong Kong residents and visitors of lies told about by the practice by Chinese Communist Party propaganda. Inside China, the Party has used its control of the media and all parts of society to attempt to indoctrinate the Chinese people into opposing Falun Gong.
Rights Threatened
According to Falun Gong practitioners, the FEHD has taken an ordinance directed at commercial or promotional activities and applied it to their non-commercial activities. They say that by using display boards and banners they are exercising their rights to freedom of speech and assembly that are constitutionally protected.
Practitioners have refused to remove their materials. Instead, they have in the last few days been visiting government officials to explain their position.
According to Falun Gong practitioner Liao Qiulan, some high officials have been speechless when practitioners have met with them and felt they couldn't do anything about the Hong Kong government's new initiative.
Leung Yiu-chung, a member of LegCo, Hong Kong's legislature, pointed to the Chinese regime as the reason for FEHD's actions.
"The Hong Kong Special Administrative Region government has already become the puppets of the Chinese regime," he said. "They will suppress anyone the Chinese regime tells them to and have no sense of autonomy."
He pointed out that pro-communist organizations have illegally displayed banners before, but FEHD only took the banners down without punishing the organization members. By imposing punishment on peaceful protest groups, Leung said FEHD was clearly involved in "political suppression."
LegCo member Wong Yuk-man said that he believes the Chinese regime is behind this incident because it cannot tolerate Falun Gong practitioners' peaceful protests. "The communist regime needs not command before the slaves carry out the work," he said.
Wong Ho-yin, a spokesman for the Civil Human Rights Front's Monitoring Group Against Abuse of Power by Police, also stated that the Hong Kong government's action is a violation of Hong Kong residents' freedom and rights.
"Are you saying that whenever there are elections, the rights of all the citizens should be suppressed? This is not reasonable," Wong said.
The spokesperson of the Hong Kong Falun Dafa Association pointed to an earlier court case as authoritative in the current situation. In May 2005, the Court of Final Appeal of Hong Kong dropped all charges against eight Falun Gong practitioners who held meditative vigil outside the Liaison Office in March 2002, citing that "the appellants were engaged in a peaceful demonstration in exercise of their constitutional rights."
According to the spokesperson, this case affirms that practitioners have the rights to freedom of speech and assembly in any public area.
The spokesperson also indicated that Falun Gong practitioners reserve the right to hold the Hong Kong government accountable and to demand compensation should the government interfere with their activities or damage their property in an illegal way.
Read the original Chinese article.
Follow The Epoch Times' China feeds on Twitter @EpochTimesChina.