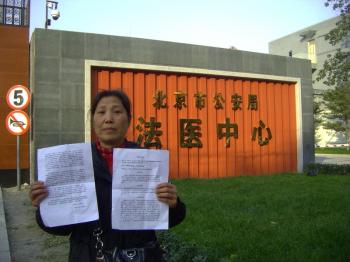 After her house was forcibly demolished in an illegal land grab, her son crippled by hired thugs, and after being denied any form of legal recourse, Ms. Ji Jingping from Jingzhou, Hubei Province, went to Beijing to hold a big sign that said "Injustice." Wherever she went, Beijing plainclothes police promptly shooed her away.
On Dec. 30 last year, authorities from the Shengli House Administration Bureau in Shashi District, along with thugs they had hired, went to tear down Ji's house. In the process Ji and her brother were beaten senseless and her son stabbed 13 times, she said in a telephone interview with The Epoch Times.
Ji cried during the interview. "My brother tried to reason with them and they beat him until he fell on the ground. I was on my knees begging them to stop and they knocked me down as well. At that moment my son, Li Shuangshuang, came home. Before he had time to react or say anything a man stabbed my son in the chest with a sharp knife. My son fell, bleeding profusely, and the six thugs began to randomly stab and kick him. They continued to beat me until I lost consciousness."
After the demolition, Ji's furniture and belongings were buried under the rubble. On-lookers were outraged.

Li survived after receiving emergency medical treatment but he was left disabled and unable to walk far. After the incident, Ji went to the local police station but officers turned down her case because it was government conduct.
After she ran out of places to file a complaint, Ji went to Beijing to appeal. "I went to the Beijing Appeal Office, the Ministry of Public Security, and the UN Office Stationed in Beijing. I was sent home every time. It's been a year since I have been trying to contact higher authorities but no one will take my case."
Her case is not unusual for ordinary Chinese on the receiving end of state violence. "Is there any hope for us civilians?" Ji cried.
An Epoch Times reporter called the Shengli Police Station about Ji's case and was referred to "superiors." Another phone call to the Shengli House Administration Bureau was promptly hung up after the operator learned that it was a journalist calling through; the phone was then left unanswered.
"If my case is not properly handled," Ji said during her most recent visit to Beijing, "I will take extreme measures to expose how the local government bullies the people and kills the innocent in order to obtain land."