With people putting huge emphasis on healthy eating and living, it's natural they will also consider how their home affects their well-being.
Minto Communities, a long-time industry leader in 'green' home-building, is continuing to raise the bar for sustainability with their new high-rise and low-rise projects. Creating healthy environments is a priority for the company, as well as conserving resources and saving money for buyers.
Minto will launch Union Village in Markham in spring 2020 on the site of York Downs Golf Course. The master-planned community will have 1,200 homes when fully built out, with traditional and rear-lane detached homes, as well as back-to-back, traditional and rear-lane townhomes. The community is at 16th Avenue and Kennedy Road, close to Unionville and Markham's extensive amenities. It will have appealing streetscapes with varied home styles, from traditional Second Empire and French Country-inspired elevations to 'Canadiana', a transitional style that combines elements of Victorian and west coast Canada influences such as heavy timber, to contemporary designs.
"There's a real focus on walkability with generous outdoor space, including natural wooded areas, walking paths, a creek that runs through the site over which bridges will connect to communities beyond Union Village," says Matthew Brown, director of product development for Minto Communities Canada. "There will be sports fields and community gathering spaces."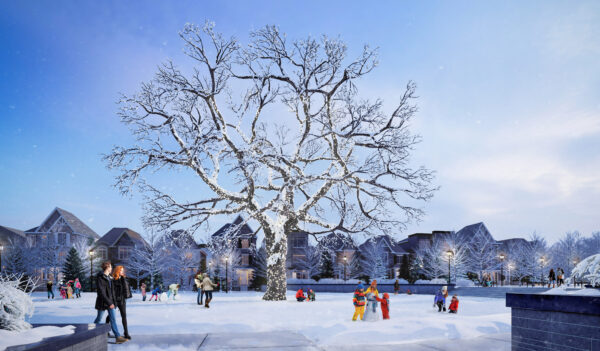 Recognizing the popularity of Markham with Chinese buyers, Minto consulted with renowned Feng Shui master Paul Ng, who reviewed the community plan and home designs and provided advice.
"Many of the Feng Shui principles are just good design principles in general," says Brown. "For example, there's a focus on functionality and maximizing views, which is inherent to what we do anyway."
The homes in Union Village will continue Minto's mandate to build homes that achieve cost savings through energy efficiency, provide comfort for their inhabitants, create a sense of community and provide healthy homes with features such as non-toxic, low-VOC (Volatile Organic Compound) paints and Heat Recovery Ventilators that ensure a steady flow of fresh air. The Union Village homes will be built to Energy Star standard, providing savings on utility bills.
Minto is looking to the future when homes will be required to be constructed to Net Zero (producing as much energy as they consume). Union Village's traditional detached homes will be designed to optimize rooftop solar panels, while still ensuring exemplary design and streetscapes, an integral step in being able to offer Net Zero homes.
Minto recently launched two condo projects in Toronto. One is The Saint, a 47-storey tower at Church and Lombard Streets, while 123 Portland is in the desirable King West neighbourhood. Both will book-end downtown in their respective neighbourhoods and are designed with their unique buyer demographics in mind. Both are in key locations with transit accessibility and substantial neighbourhood amenities.
"In the King West neighbourhood, we are seeing people with children and strollers for the first time, as well as older people who aren't necessarily downsizing but coming to the neighbourhood because of its connection to the city centre," says Brown. "Most downtown projects are not offering these people the housing options they need, so we have a good cross section of suites, including larger suites with terraces and a large percentage of two and three-bedroom suites. There are still one-bedroom suites as that customer isn't going away."
The Saint will have a more varied market, says Brown, with its proximity to George Brown College and Ryerson University.
"We are designing for the buyer and the person who will end up living there," Brown says. "There is a significant student population and there may be professionals who work at St. Michael's Hospital and the downtown core. We think it will appeal to young singles, young couples and working professionals. It's near the St. Lawrence Market that has such a neighbourhood feel."
Minto pursues LEED (Leadership in Energy and Environment Design) certification – the most widely-used green building rating system in the world – for all of its high-rise projects. In addition, it's pursuing WELL certification, which has a focus on occupant health, particularly air and water quality in residential, commercial and institutional buildings, says Brown. The Minto buildings for example, will have a specialized cleaning system that is chemical-free. Plants will also be used generously in common areas. The greenery will help to connect people to nature, as well enhance air quality.
"At The Saint, we'll interject plants inside the lobby among seating areas and we are trying to select natural finishes such as wood and hewn stone," says Brown. "They have an organic quality and even if you don't perceive it in the moment, it has a positive physical and physiological impact."
To learn more about these projects, Minto's commitment to sustainability and health in its home, as well as its other communities, visit http://www.minto.com
Tracy Hanes is a GTA real estate writer.