Group Calls for Arrest of John Liu (+Video)
July 8, 2013 7:02 pm Last Updated: July 18, 2015 5:19 pm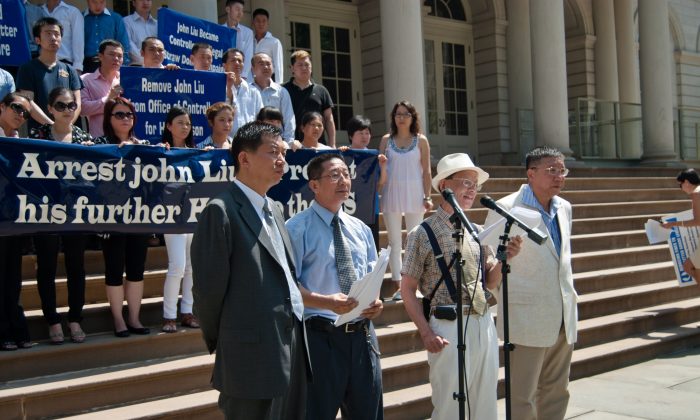 NEW YORK—Close to 30 people gathered on the steps of City Hall in New York City on July 8 to call for the arrest of NYC Comptroller and mayoral candidate John Liu
"Arrest John Liu! Arrest John Liu," the crowd chanted, as speakers listed the many scandals of Liu's political career—particularly the guilty verdict against his two aides for attempted wire fraud in May.
"The court records indicate that there was a pattern and practice of his campaign team to use straw donors in the fund-raising process," said Bianhe Xiang, chair of The Coalition of Guards for American Values.
"Such a pattern is by no means an accident of individual behavior," he said. "On the contrary, it was a unified orchestra directed by the conductor John Liu, whose own remarks confirmed his complicity in the wire fraud crime between the conductor and his team."
As Chinese-Americans, the group claimed that the Chinese community in New York City has been pressured to vote for Liu's campaign. They said Chinese state-run media, in particular, have been flooded with glowing news about Liu's campaign.
Xiang said the approach by Chinese media are "stereotype tricks to instigate Chinese nationalism behind a legitimate mask, a 'Chinese voting for Chinese' slogan."
"As immigrants who fled from the Communist regime and chose to live in America for liberty and happiness, we find John Liu's behavior totally unacceptable," he said.