Groundbreaking: Hunter's Point South
March 4, 2013 10:53 pm Last Updated: September 29, 2015 5:43 pm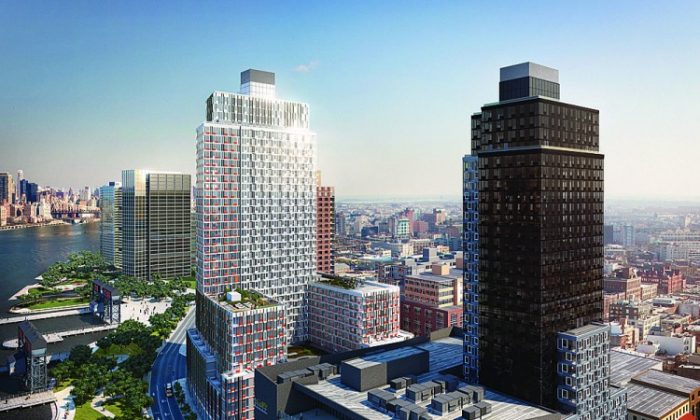 NEW YORK—Construction has officially commenced on the first phase of the biggest affordable housing project in New York City since the 1970s. When completed phase one will comprise two high-rise buildings, an 1,100-seat school, and a five-acre waterfront park. The school is nearly completed and will be ready to receive students by September.
Mayor Michael Bloomberg, public officials, and representatives from the firms involved held a formal groundbreaking at the site on March 4. Bloomberg also announced that the city will issue a request for proposals for the second phase of the project next month.
The Hunter's Point South Project is at the south end of Long Island City, on the East River waterfront, facing Midtown Manhattan. The future buildings are a five-minute subway ride from Grand Central Terminal via the No. 7 train, which stops two blocks east of the development.
All 925 apartments in the first phase of the project will be permanently affordable to middle-income New Yorkers with rents ranging from $500 to $4,000. The two buildings will be 32 and 37 stories each and contain 17,000 square feet of retail space. When completed, the entire Hunter's Point South project will include approximately 5,000 housing units and 11 acres of waterfront parkland.
The buildings were designed to withstand up to 2.5 times the water levels of the flooding caused by Hurricane Sandy. Mechanical systems, condensing boilers, and co-generation plants in the buildings will be located on the second floor or higher, while the emergency generators will be located on the roof. All exterior doors will be flood-proof and the building frontage is designed to act as a floodwall.
"The first homes of Hunter's Point South will be among the first housing units built along our waterfront since Hurricane Sandy and our administration has committed to not simply rebuilding the communities that Sandy hit the hardest but to create a more resilient and sustainable city as well," said Bloomberg. "Hunter's Point South will help us do both."
SHoP Architects and Ismael Leyva Architects designed the two towers. Both are planned to be LEED Silver certified upon completion.

The new towers will rise in a neighborhood where the average property prices are up to $510 per square foot in 2013, according to Zillow.com. The same neighborhood fetched just $54 per square foot on average in 2000. The price for a square foot at new developments in the neighborhood was $771 in December 2012, according to StreetEasy.com market data.
"Right now, all of Long Island City is really prime real estate, but this one will also be prime real estate, but it will also be affordable," said Queens Borough President Helen M. Marshall. "We really do need affordable housing."
Hunter's Point South is part of a bigger initiative by Bloomberg to fund 165,000 units of affordable housing in New York City by 2014. The Bloomberg administration is ahead of schedule to meet that goal with 143,300, or 87 percent, of the units already funded to date.
The Epoch Times publishes in 35 countries and in 21 languages. Subscribe to our e-newsletter.
Please send news tips to [email protected]