Sen. Chuck Grassley (R-Iowa) on Thursday publicly called for Attorney General William Barr to intervene in the case of former White House national security adviser, retired Lt. Gen. Michael Flynn.
Grassley also criticized the FBI and the Department of Justice (DOJ) for their handling of the case against Flynn, dubbed "Crossfire Razor,"—part of the larger investigation the FBI had begun in 2016 into alleged ties between Russia and the campaign of then-candidate Donald Trump, also known as Crossfire Hurricane.
Grassley, who was the chairman of the Senate Judiciary Committee through the start of the Russia probe, wrote on Twitter: "New DOJ docs seem 2back Lt Gen Flynn's claim that FBI/DOJ/Mueller team railroaded 30yr veteran in Russia probe. For yrs, I've asked for DOJ's Flynn records. Their response: 'nothing 2see here.'
"Obviously not true! Time to put all cards on the table. Transparency brings accountability."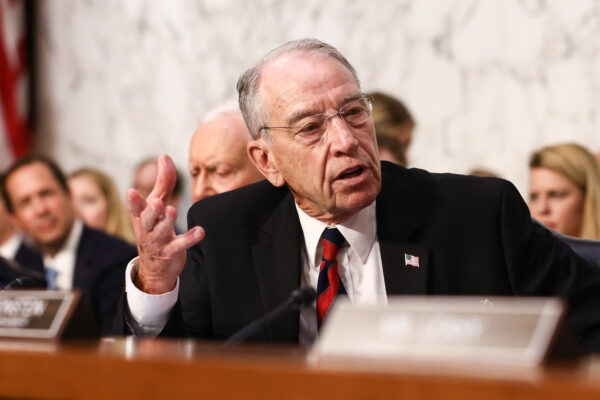 He continued: "FBI/DOJ screwed up so many times in Russia probe, very reasonable for AG Barr + impartial judge 2take close look at Flynn case. Accused deserves fairness + Public deserves accountability + Prosecutor/investigator/lawyer misconduct deserves consequences."
Grassley's comments come after FBI files unsealed by the Justice Department on April 29 showed that an FBI official had questioned whether the bureau was trying to catch Flynn in a lie in an interview "to prosecute him or get him fired."
Flynn, former head of the Defense Intelligence Agency during the Obama administration, pleaded guilty on Dec. 1, 2017 to one count of lying to FBI agents during the interview on Jan. 24, 2017. The interview had focused on Flynn's phone calls with then-Russian Ambassador to the United States Sergey Kislyak in 2016. Flynn in his guilty plea said that he made false statements about a conversation he had with Kislyak.
Several emails released on April 29 showed that some of the officials involved in the interview had discussed whether to warn Flynn that lying to a federal officer is a crime; Flynn didn't receive that warning during the interview. The FBI also appeared to have had the transcripts of calls between Flynn and Kislya, but some top FBI officials at the time decided that Flynn shouldn't be shown the transcripts during the interview, according to emails.
On Thursday, Grassley called for actions to be taken against those who violated Flynn's constitutional rights.
"Many of my colleagues r rightfully calling for prosecution of ppl who violated Flynn's constitutional rights," he wrote. "MORE IMPORTANTLY the whole country needs to know how his rights were violated. TRUTH getting out is most important so this FBI abuse wont be repeated again on someone else."
He also called on Barr to intervene in the case, writing, "AttGen Barr: it's so obvious the unconstitutional punishment that GenFlynn has had for four long years u need to intervene and #FREE FLYNN."
Grassley, who now serves as the Senate Finance Committee chairman, also noted that the newly unsealed documents were stamped with "SCO as in Special Counsel's Office."
"Did Mueller have these docs? Why did his team sit on them? What else is Mueller team that cost taxpayers $30+ million hiding?" he asked. "The ppl deserve answers 2restore faith in federal law enforcement agencies."
Flynn was the first Trump campaign official to be charged by the special counsel Robert Mueller. The charge Flynn pleaded guilty to was unrelated to the alleged collusion. Mueller, who took over the FBI's investigation in May 2017, finished his investigation in March 2019 and found no evidence that Trump or his campaign knowingly colluded with Russia.
Flynn has not been sentenced—his sentencing has been repeatedly delayed to allow him to cooperate with authorities on other cases and to resolve his defense team's request last year to disclose alleged exculpatory evidence.
In January, Flynn moved to withdraw his guilty plea "because of the government's bad faith, vindictiveness, and breach of the plea agreement," his legal team wrote in a court filing (pdf) at the time. Flynn said that he only entered a guilty plea because his former lawyers hadn't represented him effectively at the time.
Flynn's current lawyer, Sidney Powell, who has said the case should be dismissed for government misconduct, said in an April 24 court filing that evidence in the newly released material showed that Flynn was "deliberately set up and framed by corrupt agents at the top of the FBI."
Senate Majority Leader Mitch McConnell (R-Ky.) said in a call with Fox News on Thursday that the new materials "could well warrant additional charges" against some of the top officials at the FBI.
Petr Svab contributed to this report.