Google Releases Keep, Note Taking App
March 21, 2013 2:04 am Last Updated: November 16, 2014 6:54 pm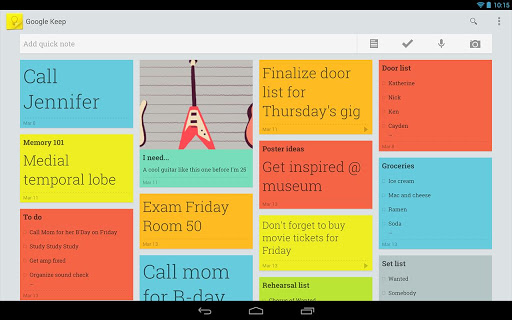 Google released its note taking app this week. The app will be available in Google Play on 4.0 Android, Ice Cream Sandwich and above.
With Google Keep, you can takes notes, photos, create checklists, record voice memos and the content can be accessed from all devices. The voice memos are transcribed into text for later use and all notes will be synced between the device and web.
"With Keep you can quickly jot ideas down when you think of them and even include checklists and photos to keep track of what's important to you. Your notes are safely stored in Google Drive and synced to all your devices so you can always have them at hand" from Google blog. To keep notes on the web, visit Google Drive.
A quick note can be taken directly from the text box; a checklist can be added by tapping on the check mark icon; by tapping on the mic, you can record a voice memo; and a photo can be added by tapping on the camera. Notes can be organized in different colors. And, of course, there is search built-in.
Google has also built a Keep widget, which can be placed on your Android home screen, or on your phone or tablet's lock screen. This feature, available for those using Android 4.2 Jelly Bean, enables you to add a reminder without having to unlock the device.
Some users have pointed that Google has kept the app too basic by not having import and export capabilities from other platforms or alarms for reminders or other advanced functions already found on Evernote and Onenote. But with Google, you can always count on future upgrades while the simple UI with limited functions can be refreshing.