It was some time in the making, but Google made a bolt-on acquisition by leasing the 1,000-acre Moffett Airfield from NASA for 60 years and a total price of $1.16 billion.
"As NASA expands its presence in space, we are making strides to reduce our footprint here on Earth," said NASA Administrator Charles Bolden. He also noted the public will save $6.3 million in maintenance costs, which Google will also cover on top of the lease payments.
Despite the involvement of NASA, Moffett Airfield, named after Rear Adm. William A. Moffett, was mostly used by the Navy for testing, education, and surveillance efforts after its construction in 1931. It therefore does not contain a launchpad for space shuttles or interstellar rockets.
It is other factors that make this project a fantastic one for Google, which is leasing the property through its direct subsidiary Planetary Ventures LLC.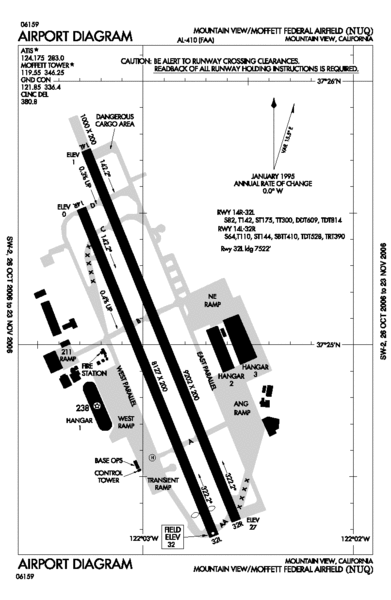 Google Factor 
First off, Google already controls most of the land around the airfield. It already operates to the west of the field, is expanding into office buildings on the east and Planetary Ventures already leases 42 acres to the north, the site where Google is building its new headquarters. On top, executives like Larry Page and Eric Schmidt have already been using the airfield for their private jets for years. 
As a bonus, the south side is open to the sea and could be used to ferry Google employees to and from San Francisco. It is unclear from NASA's release whether other operators like Lockheed Martin and helicopter company Jon Stark will be able to use the field under Google's tenure.
But the fantasy of what Google really might do with the property, which also includes two golf courses, comes from its commitment to refurbish the legendary Hangar One. It spans 8 acres, was previously used to house giant airships, and is classified as a historic building by different U.S. agencies. 
"Once renovations are complete, Hangar One will again be home to high-tech innovation as Planetary Ventures begins using the historic facility for research, development, assembly, and testing in the areas of space exploration, aviation, rover/robotics, and other emerging technologies," NASA stated. 
Google pledged to spend $200 million to revamp Hangar One and other parts of the property, which includes two other hangars of similar size but less striking design.
Space Race 
Google has so far remained coy about its space ambitions, unlike other companies like Virgin Galactic, Amazon, or Tesla owner Elon Musk who wants to create settlements on Mars with his company SpaceX. So far the only project worth noting is the Google Lunar X Prize, which awards $20 million to the company or individual that will safely land a robot on the moon by the end of 2015. 
However, Google at least has the option to explore launching satellites into space from Moffett Field and also use it as a base for its latest acquisition, Titan Aerospace. Titan is developing solar-powered drones, which fly in the atmosphere but can perform the same functions as satellites, so Google might skip satellites altogether.