Commentary
When I first moved to Los Angeles in the late 1960s, I became a paleo-Laker fan.
Those were the days of "Happy" Hairston, but things quickly improved with the arrival of Magic and Kareem and Kobe and Shaq (or Shaq and Kobe, if you prefer).
The whole town was soon Laker-crazy and justifiably so. They didn't lose a lot and nights at the "Fabulous Forum" and later, the Staples Center became a celebration of the city itself.
It was "SHOWTIME!" Rooting for the Lakers was like rooting for the 1927 Yankees. You knew they were going to win. Those damn Celtics could be troublesome but just enough to keep things interesting.
With Jack Nicholson ensconced in his floor seat, the success of the Lakers mirrored the success of the city. It was the place to be. Who cared about the national anthem? We had ours—Randy Newman's "I Love L.A." ("From the South Bay to the Valley/From the West Side to the East Side/Everybody's very happy/'Cause the sun is shining all the time/Looks like another perfect day/I love L.A.")
Unfortunately, as another, even better, song goes: "Those were the days, my friend/ We thought they'd never end."
There's a reason that song, originally Georgian and Russian, has been popular in multiple languages since it first appeared in 1925.
As for L.A., we all know what happened. A picture is indeed worth a thousand words.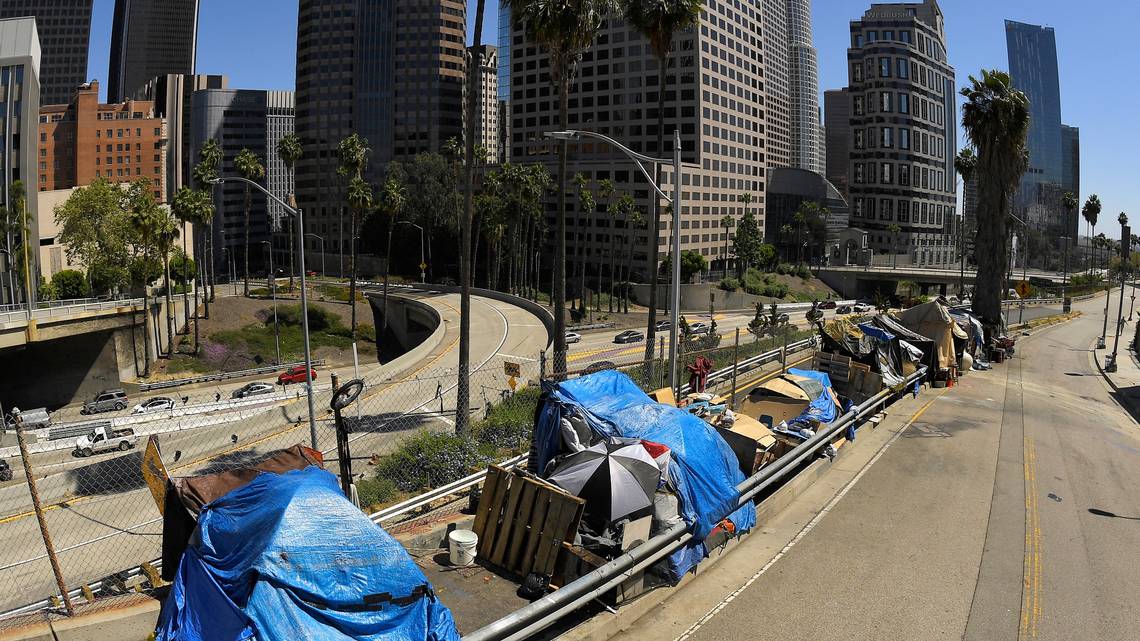 As some readers know, for several reasons, the failure of city leadership to do anything at all about the homeless cataclysm among them, I left.
Nevertheless, out of some form of nostalgia, I tuned into the Houston Rockets-Los Angeles Lakers playoff game on Sept. 12. I didn't recognize all the players—wasn't Rajon Rondo a Celtic—but of course, I knew LeBron James and Anthony Davis.
Although the game was a blowout by the Lakers, I took no pleasure in it. Quite the contrary. All I could see were the endless "Black Lives Matter" T-shirts on the players and coaches, and the same words emblazoned on the hardwood floor.
"Education Reform" was printed on the back of the familiar purple-and-gold jerseys. Reform how and for what wasn't clear.
I wasn't watching a basketball game. I was being propagandized by the NBA and ESPN. It wasn't a whole lot of fun.
Meanwhile, that night, only a few miles away in Compton, two L.A. County sheriff's officers were shot in the head while sitting in their car. Reportedly, they are currently "fighting for their lives."
Also being reported is that "Black Lives Matter" protesters appeared at the hospital, blocking the entrance so, presumably, the officers couldn't be treated.
According to a tweet from the L.A. County Sheriffs Office, these protesters were yelling, "We hope they die."
To simply call this "ironic" is by several miles too weak.
I will repeat what I have written before: "Black Lives Matter" is essentially a conspiracy against black people—and ultimately against all of us.
This conspiracy was instigated by self-described Marxists.
Which brings us back, this time truly "ironically," to LeBron and the Lakers. That's the same LeBron, as the most prominent player in the NBA at this point, who was excusing the relationship between that organization and communist China.
That's the communist China that keeps untold hundreds of thousands—or is it millions—of Uyghurs, Tibetans, and others in concentration camps or re-education camps (call them what you will). You can't get much more racist than that.
(Sorry, LeBron, that you have ancestors who were slaves no more exonerates you from bad behavior today than the fact I had ancestors incinerated in death camps or slaughtered in pogroms exonerates me. We live in the times in which we live and make decisions accordingly.)
What's the attraction of "Black Lives Matter" to these mega-rich athletes and celebrities? (As if it's any surprise, the last listed annual salaries for James and Davis are $37 million and $27 million, respectively. That doesn't include endorsements, film and television appearances, and so forth.)
Shelby Steele's powerful "White Guilt: How Blacks and Whites Together Destroyed the Promise of the Civil Rights Movement," which I have written about before, shows the way. What we have in the case of these African American athletes and celebrities is its corollary—black guilt.
Folks such as LeBron undoubtedly work hard at what they do, but it couldn't be more obvious that they were also "born that way." Not all us get to be 6-foot-9, with shoulders the width of a ping-pong table.
LeBron is a very fortunate man by birth. He knows it. We all know it. And more power to him.
But the very fact that he knows it separates him from the rest of us very average people whatever our color or creed. What he and others like him are expressing, in their fealty to "Black Lives Matter," despite its obvious excesses and Marxist provenance, is guilt over their good fortune that has placed them head and shoulders above their peers.
While this is understandable and quite human, LeBron and the others should be able to rise above it, say goodbye to the propaganda, and put this behind them. Now, if ever, is the time.
As for me, I'm putting L.A. and the Lakers on hold.
Roger L. Simon is an award-winning novelist, Oscar-nominated screenwriter, and co-founder of PJ Media. He is now a columnist for The Epoch Times. Find him on Parler and Twitter @rogerlsimon. Find (and enjoy) his books on Amazon.
Views expressed in this article are the opinions of the author and do not necessarily reflect the views of The Epoch Times.