After a Chinese girl's father died while in police custody about a week after his arrest, a teen girl said she had to quit school to "seek justice" for his death and try to rescue her mother from detention.
The daughter of the man, Gao Yixi, says that he was arrested because he practices Falun Gong, a type of meditation practice. The Chinese Communist Party launched a widespread persecution against practitioners not limited to torture, bribes, beatings, imprisonment, force feedings, sexual assault, and even worse—according to a lengthy report last month, organ harvesting.
The body of Gao, of northern Heilongjiang Province in China, was seen by his family with "handcuff marks on his wrists" and "his chest protruded and his abdomen was sharply sunken," according to a July 14 report from Minghui, a website that publishes information and updates on Falun Gong, also known as Falun Dafa
After that, officials quickly performed an autopsy on him then "attempted to cremate him," and his wife was held hostage at the local detention center, according to the report. She's still being held there against her will, said the daughter, Gao Meixin.
Writing in the first-person, the girl said that her parents were arrested on April 19 after police "suddenly broke into my home and raided the house" and none of them showed identification, leaving six hours later and taking her parents into custody. Her parents were transferred to a detention center two days later, and she was unable to see them when she went there with her grandmother.

"I was told later that morning that my father was sent to the emergency room of the police hospital. I was shocked. My father was always in good health. Why would he be taken to the hospital for emergency care?" the girl asked. She was able to see her father — not before police asked her to pay about $500 for medical expenses. Police then took the two back to her parents' home and later, their home in Muling City.
Before they got back, she was informed by way of her uncle that her father died. Police took him to a funeral home. Later that day the girl was able to see her father's body after much conflict with local authorities, who apparently wanted to have his body cremated as quickly as possible, according to Minghui.
"I came closer," she wrote. "My father's body was already stiff. His eyes were wide open and his fists were clenched tight. His chest protruded and his abdomen was sharply sunken. There were rope marks on his body and handcuff marks on his wrists. His fingernails were black and he had bruises on his head."
A local prosecutor claimed her father died of a heart attack and "malnutrition," she said. "No one from our family has had heart problems," she replied. When her uncle asked the prosecutor for a copy of the autopsy report, he refused.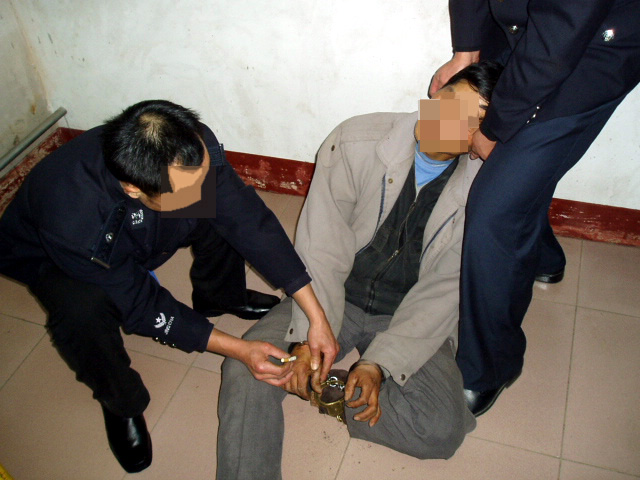 The girl explained how in just a few days, that her "family was very happy together, until everything suddenly turned upside down."
As a result, she quit school to seek justice for her father. The police refused to hand over any warrants
"My family members and I also went to different legal departments to file complaints and asked them to investigate my father's death. None would. They would either give us the runaround or hide when we arrived," she wrote.
But, "individuals followed and monitored us. Anyone who attempted to help us were threatened and even arrested by the police," she added.
"I don't know who can help me. I don't have many requests. My only hope is that the authorities will give me a clear explanation of my father's death and release my mother."
"I just want to have whatever is left of my family back."
In Harbin, the biggest city in Heilongjiang, at least 109 people were arrested during the first half of 2016 because they practice Falun Gong, Minghui said in a separate report. "Many of the targeted practitioners had filed criminal complaints against former Chinese dictator Jiang Zemin for initiating the persecution of Falun Gong," Minghui said, adding that police "retaliated against them." Many of the practitioners still remain in custody.