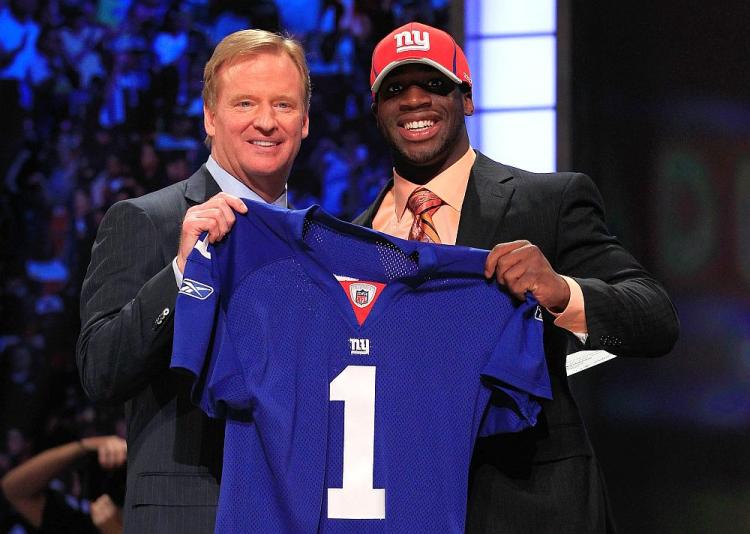 The New York Giants (5–2) will travel to Lincoln Financial Field to take on the Philadelphia Eagles (4–2) for their first of two annual NFC grudge matches this Sunday.
The Giants are coming off last week's forgettable 24–17 loss at home to the Arizona Cardinals while the Eagles are riding high off a dominating win against the Washington Redskins on Monday night.
On defense, the Giants must put pressure on Eagles QB Donovan McNabb and disrupt the passing game. New York's defense racked up double digit sacks during the first five games of the season and was one of the most fearsome units in the NFL. However over the past two weeks, against better opponents in the New Orleans Saints and Arizona Cardinals, the Giants could only muster two sacks combined.
The Giants could get lucky against Philadelphia because their offensive line hasn't been doing a great job in pass protection as of late. Against the Redskins, McNabb was under pressure for most of the game and had a hard time getting into any kind of rhythm.
If McNabb gets going he could be hard to stop. After bruising his ribs during Week 1, he has rebounded strongly with six touchdown passes and only one interception.
Philadelphia's offense is anchored with McNabb but it's supported by talented running backs and receivers.
Rookie running back LeSean McCoy leads the Eagles with 212 rushing yards on 59 carries while second year wide receiver DeSean Jackson and tight end Brent Celek are key players in Philly's air attack.
Jackson is a big time threat—one of the speediest wideouts in the NFL. During Monday night's win, he caught a 57-yard touchdown pass and also had a 67-yard touchdown run. This season, Jackson has three touchdowns and 21 receptions for 423 yards. He is averaging an impressive 20.1 yards per catch.
Celek, who leads all NFC tight ends in receptions, is also emerging as one of the great receivers in the league with 30 catches for 378 yards and two touchdowns.
Overall, the Eagles offense is currently ranked seventh in the league in scoring with 27.2 points per game and have the ability to score quickly.
Giants defensive coordinator Bill Sheridan knows containing Philadelphia's offense won't be easy. He said, "They have always been really explosive on offense. Everybody knows how explosive DeSean can be, plus they have other good receivers."
Giants Ball
When the Giants have the ball, Eli Manning must account for Eagles cornerbacks Asante Samuel and Sheldon Brown, who have four and three interceptions respectively. They are part of an Eagles defense that leads the NFL with 18 takeaways.
Manning must also be aware of linebacker Trent Cole while in the pocket. Cole has 6.5 sacks and leads an aggressive Philadelphia defense that thrives on the blitz and is ranked third in the NFL with 21 sacks.
Giants offensive coordinator Kevin Gilbride knows the Eagles defense presents a major challenge, "They have always been an outstanding blitz team. They have some great individual players that execute the blitz packages well."
The Giants will try to offset Philadelphia's aggressive schemes by controlling the game with a strong rushing attack, and utilizing punishing running back Brandon Jacobs and Ahmad Bradshaw. But the offensive line must get a good push against Philly's athletic front seven in order for that to work. The Eagles have the 11th ranked rushing defense and are keeping opponents under 100 yards per game.
Eli Manning knows the Giants offense will have to be playing its best football. He said, "We just have to play consistent, avoid the mistakes, penalties, [and] missed opportunities, whether it is a missed throw or a drop or just a mistake that is keeping us out of our rhythm."
While the Eagles ruined the Giants post-season chances last year by winning the NFC Divisional playoff game 23–11 at Giants Stadium, the G-Men have won the last four regular season matchups at Lincoln Financial Field. They hope to continue that success by winning their fifth consecutive game on the road in Philadelphia this Sunday.