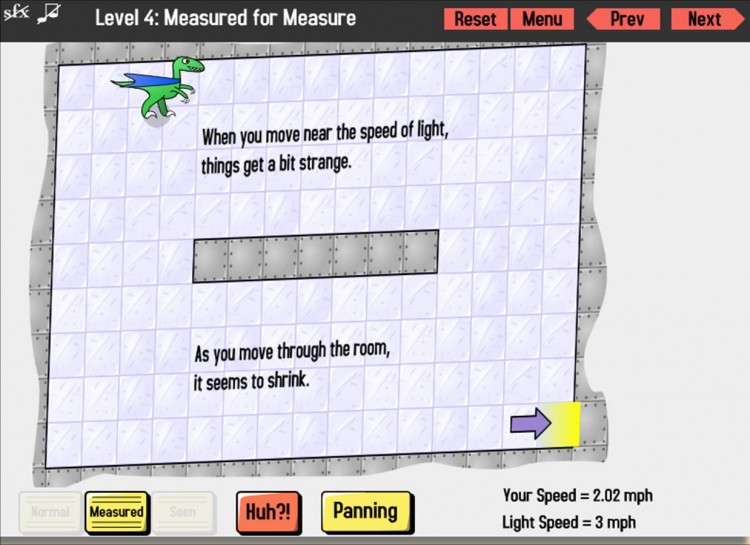 When Albert Einstein worked through the principles of special relativity, he probably had no idea that future technology would make it easy to "learn and live" his theory.
Test Tube Games is a website that has liberated science from the narrow dimensions of the test tube using simulations.
"I started making simulations and games as a way of giving people hands-on experiences with abstract concepts," Andy Hall, a physicist and game designer from Massachusetts, told The Epoch Times via email.
"I generally take a physics concept and try to look for the game in it. After all, science is already a game of finding patterns and relationships."
These games are simple enough to engage children, while also using concepts that interest teens and adults.
The Velocity Raptor—a game based on Einstein's theory of special relativity—explains the complex physics and mathematics behind it.
"I think the hands-on nature of the game can improve a player's understanding quite a bit," Hall explained.
When Velocity Raptor runs close to the speed of light, the player can experience changes which are impossible to sense in real life.
The scenarios in this game bring in the concept of space-time, by mixing the fundamentals of space and time to form a single entity, manifesting how things change with alterations in space-time.
"Unlike some other simulations—my games build up the concepts slowly over time, adding them bit by bit," Hall said. "I think that's really important to keep people from getting overwhelmed."
"I've gotten great feedback from people who were confused after learning about relativity, but when they played my game, the concepts finally clicked."
The project began just a couple of years ago as a hobby, but now this keeps Hall busy designing newer games for the computer and iPhone.
His latest iPhone game is Agent Higgs, a puzzle that builds up player's knowledge of subatomic particles and their properties to unlock the next game level.
"I am still working on updating it and adding future levels. I'm excited to be releasing the first levels with quarks soon," he said.
Hall is currently designing a new game on the concept of quantum mechanics and hope to "introduce people to the beauty of that subject."
To explore the games, visit Test Tube Games.
The Epoch Times publishes in 35 countries and in 19 languages. Subscribe to our e-newsletter.