From Holocaust Survivor to Canadian Real Estate Mogul
Family-owned Conservatory Group share father's rags to riches story
April 7, 2014 7:20 pm Last Updated: April 10, 2014 2:04 pm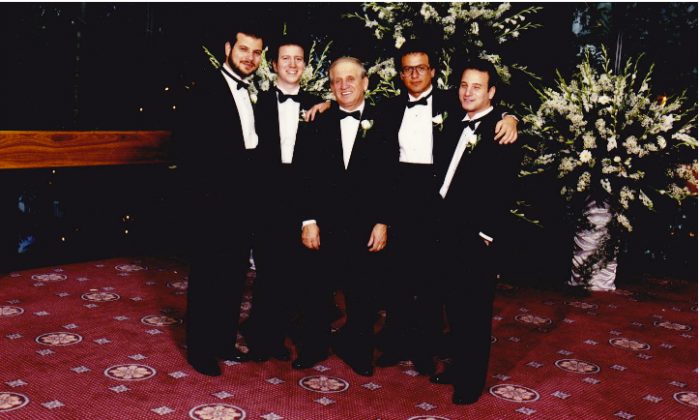 As a child, life as Theodore Libfeld knew it disappeared into the darkness of Nazi-run death camps in German-occupied Poland. By the end of World War II, he and one brother were the only surviving members of his family. He fled Europe, landing in Canada after the war in the late 1940s with no money, no formal education, and no knowledge of the English language.
By the time Libfeld passed away in 2000, he had founded Conservatory Group, one of Canada's largest real estate development companies. Today, his four sons successfully run the business as a team, and are among Canada's most prominent Canadian families.
How did Libfeld do it? If I told you the short answer is love, would you be surprised?
Incredible story of survival
Theodore Libfeld and his three brothers and two sisters were born in Kielce, Poland.
When World War II started he was 11. In 1939 the Nazis invaded Poland and all Jewish schools were shut down. This marked the end of Libfeld's formal education. By 1941 all the Jews in Kielce were rounded up and forced to live in the Kielce ghetto. Twenty-seven thousand Jewish citizens were imprisoned in the ghetto, in quarters rife with starvation and disease.
Treblinka went into operation in 1942, and was soon one of the Holocaust's most notorious death camps. Libfeld's mother, father, older brother, both sisters, and young niece were stuffed into a cattle car with hundreds of others, sent to Treblinka, and promptly killed along with the nearly one million Jews who were "liquidated" there.
Libfeld and his two remaining brothers stayed in the Kielce ghetto. He was forced by the Nazis to remove the bodies of family, friends, and acquaintances who died from starvation or were murdered. Eventually, he and his two remaining brothers were transferred to Auschwitz, the most notorious concentration camp in all of Nazi-occupied Europe.
One in six Jews killed during the Holocaust died at Auschwitz, if not in the gas chambers, then from starvation, forced labour, individual executions, or barbaric medical experiments. Libfeld's oldest brother eventually died of starvation, but somehow Libfeld himself managed to stay alive.
In 1945, as the Russian army approached and the war was about to end, SS Commander Heinrich Himmler ordered that much of Auschwitz be burned down in order to hide Nazi crimes. The remaining 58,000 living detainees were sent on a death march—a march only 20,000 of them survived.
Libfeld escaped this death march and hid in the Polish countryside until the war ended weeks later. Unable to join his last surviving brother in America, he made his way to Canada.

Getting down to business
After surviving World War II, Libfeld felt anything was possible. Colleagues recall sitting in a meeting with him and some very aggressive lawyers. Yelling may have been involved. Libfeld was unshaken. "I died once already!" he said. After the horrors of the Holocaust, what was left for him to fear?
That may be why Libfeld was ready to try and try again in Canada. Real estate wasn't his first line of work. He attempted many things, from cattle trading to rent-to-own furniture, none of which quite worked.
It wasn't until the 1960s, after a furniture business wound down, that he built a few homes and sold them. When that went well he built more, using the experience he gained in previous ventures to offer innovating promotions to homebuyers.
"He was always known to be a marketer with creative financing ideas," explains his son, Jay Libfeld. At various times in their 50-year history, Conservatory Group has offered rent-to-own programs and zero interest mortgages. Libfeld was one of the first builders to offer pre-construction sales as well.
After 20 years building single-family homes, Conservatory Group finished its first condominium project in the mid '80's, in Thornhill. Today, they build high- and low-rise residential, commercial, and industrial developments.

Keeping it in the family
Many a family legacy was frittered away by the second generation. How have Libfeld's four sons managed to not only grow their father's business, but to work together as an effective team? A caring father taught the key lessons that enabled their success.
"My father was the most loving father I know. All of us have this admiration for him, almost hero status," says Jay. When the boys were young, they never wanted to disappoint their father, especially because he was a man who had already endured so much. Their father, in turn, truly valued his children, making them central to his daily life.
When the boys were young, the company office was down the street from the family home. When Jay was in middle school, he would often meet his dad for lunch. There sat Jay, at the table along with his father's business associates, inadvertently learning the subtle art of business communication and relationship building while he ate.
"He had a great balance between work and family," says Jay. "As a child I didn't want for a father. He was there for me all the time."
But how is it possible to always be there for four children while running your own business seven days a week?
"On the weekends he would go from construction site to construction site, sales office to sales office, and we went with him. We were with him all the time," explains Jay.
The lessons the boys learned at their father's side are still with them.
"My dad had a habit of calling every sales office every weekend, often more than once … I also do that," says Jay. His father helped establish the necessity of staying in constant contact with every aspect of the business.
Libfeld also placed tremendous trust in his sons. "He felt that his boys could do whatever he threw at them, and we wanted to do it because we wanted to impress him."
As the boys got older, their father hired them during school holidays. They gained experience. When mistakes were made, their father never got angry. "It was always a positive approach," says Jay. He taught them not to agonize over problems, but to work together to find a solution.
When Jay completed his studies at York University his father never doubted his abilities. His first project was an industrial building in Markham. "He gave me the plans and said, 'go build it.'"
This trust seems to have spilled into the brothers' relationship.
Theodore Libfeld and his four sons have built and delivered over 50,000 homes. Since their father's death in 2000 the brothers run the business as a team, each the independent head of a key area. 
Mark runs the low-rise and medium density residential division, Sheldon handles land acquisition and development, Jay handles the high-rise condominium and commercial property divisions, and youngest brother Corey runs the company's award-winning sales and design centre as well as the customer after-care department.
"We each have our own departments," says Jay, but no one brother is in charge. When opportunities cross over departments, "we all agree to agree." They run Conservatory Group by consensus. Yes, really. It seems their father's trust in them has helped them trust in one another—a habit that will hold them in good stead for the next 50,000 homes.