Formula 1 Chinese Grand Prix: Hamilton Leads Third Mercedes Sweep
April 20, 2014 4:52 am Last Updated: April 20, 2014 8:56 am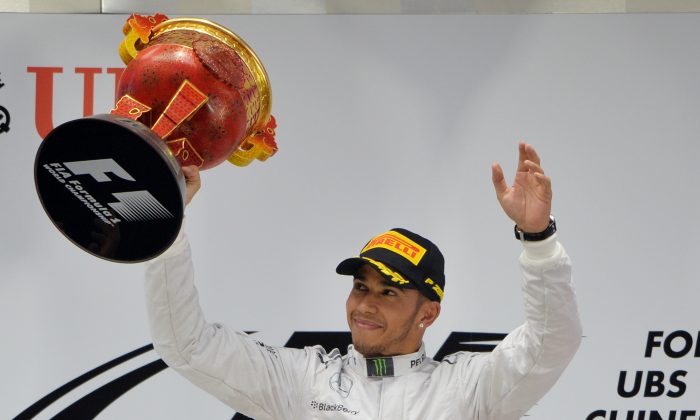 Most people thought Lewis Hamilton was crazy to leave McLaren, a team which had supported him since he was seven and brought him his World Championship, for Mercedes, a mid-pack team at the time.
Two years later at the F1 Chinese Grand Prix Hamilton looked like a genius climbing to the top step of the podium for the third straight race—something McLaren had never given him.
One step down, for the third time this season, stood Hamilton's Mercedes team mate Nico Rosberg, giving Mercedes the first three-sweeps-in-a-row in F1 since Ferrari's days of dominance with Michael Schumacher and Felipe Massa in 2004.
"I couldn't do this without all the hard work from the team. I can't believe how incredible the car has been," Hamilton told NBCSN. "I'm really happy Nico is up here with us—It's a great result for the team."
Hamilton turned in a Vettel-like performance, starting the pole and driving away from everyone. The Mercedes driver gained a second a lap and stretched his tires until lap 17 while most of his competition had to pit four laps sooner.
Back out on Medium tires Hamilton preserved his tires and his lead, while behind him team mate Nico Rosberg hunted down Ferrari's Fernando Alonso for second.
As for four-time and current champion Sebastian Vettel, the Red Bull driver couldn't even keep up with his team mate Daniel Ricciardo. Vettel refused to honor team orders when he was told to let Ricciardo by; "He has newer tires," was told; "Tough luck," was his reply.
There was nothing wrong with the Red Bull chassis; Daniel Ricciardo was a second per lap quicker than his multi-champion team mate.

Mercedes AMG Petronas driver Lewis Hamilton of Britain leads the pack at the start of the Formula One Chinese Grand Prix in Shanghai on April 20, 2014. (Goh Chai Hin/AFP/Getty Images)
Hamilton made his second stop on lap 38 with a 26-second lead and easily kept the lead.
Behind Hamilton Nico Rosberg caught Alonso's Ferrari on lap 43, giving Mercedes its third consecutive sweep.
Ferrari hadn't had time to make many changes since installing new team principal Marco Mattiacci on Monday, but something changed, as Fernando Alonso's F14T was suddenly competitive. The two-time world champion earned Ferrari its first podium of the season, though it wasn't easy—Red Bull's Ricciardo pressed hard through the final dozen laps.
Vettel finished fifth, a shocking 24 seconds behind his team mate.
Formula 1 heads back to Europe for its next few races, starting with the Spanish Grand Prix on May 11. Tickets and travel can be booked through the Formula1.com website.