The FBI arrested a former reporter Friday for allegedly making several bomb threats to Jewish Community Centers, Jewish schools, and other Jewish organizations around the United States.
Juan Thompson, who worked for The Intercept before he was fired, made some of the threats using his own name, authorities said in a complaint on Friday at the Federal District Court in Manhattan, The New York Times reported. In a statement The Intercept said that Thompson had been fired in January 2016 after it was found out he had fabricated sources and quotes.
On Thompson's Twitter feed, he appears to be advocating favorable opinions of communism, an ideology that left 100 million dead in the 20th century, and Marxism. "The FBI just visited me and asked if I was a Marxist. I said 'By Marxist do you mean a defender of humanity?'" he tweeted. He also wrote in February: "I'm no liberal. And I believe every millionaire and billionaire should be robbed of their wealth. #resist." Then he wrote a few days later: "We don't want America like NY, we want it like Havana."  
His background picture is "Raising the Banner" by Geliy Korzhev, a Russian communist painter who painted in the Soviet-approved style of Socialist Realism." The "banner" appears to be a red communist flag.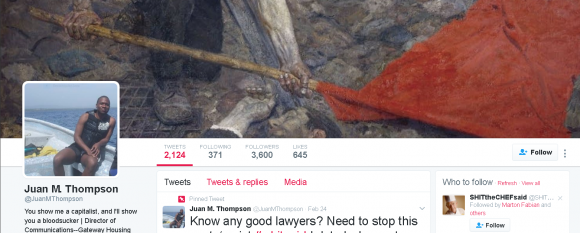 On Twitter, Thompson follows a number of pro-Marxist and pro-communist Twitter accounts, retweeting posts from some of these accounts, including one that reads, "Happy New Year Comrades," which shows a communist hammer-and-sickle symbol next to "1917-2017," referencing the start of the Bolshevik revolution in 1917. He's also tweeted a number of posts critical of President Donald Trump. 
According to the Times, the complaint said Thompson claimed he had placed two bombs at a Jewish school in Michigan, saying he was "eager for Jewish newtown," referring to the 2012 mass shooting at Sandy Hook elementary school in Newtown, Conn.
As the paper noted, he's likely not responsible for most of the threats against Jewish centers around the country in recent days. It cited federal law enforcement sources for the report.
But Thompson made at least eight threats against Jewish schools and community centers in New York, Dallas, Michigan, and San Diego, the complaint said.
He also made a threat to the Anti-Defamation League in New York, saying C-4 explosives would be "detonated within one hour."
The Intercept confirmed that he had worked for the publication from November 2014 to January 2016. He was fired for making up sources and stories.