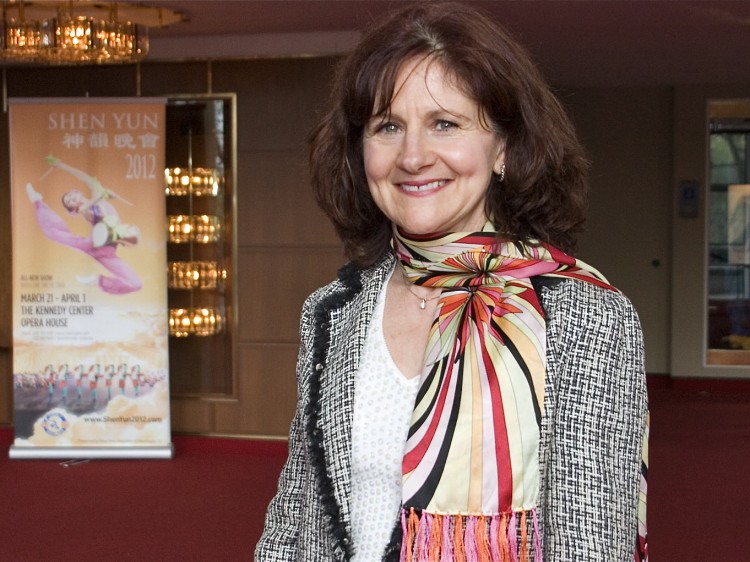 WASHINGTON—Amelia Grazioso, former chief information officer at the Department of Defense, was in the audience on Sunday, March 25, at the Kennedy Center Opera House to witness the glorious spectacle of Shen Yun Performing Arts Touring Company.
"It was absolutely awesome and inspiring—it really, really was, and I am just so glad that it is here in the U.S. We need positive energy here, we really do, and this was absolutely positive energy," said Ms. Grazioso.
The classical Chinese dance was "absolutely beautiful," she said. "I loved the significance behind each move—I mean it just flowed. And graceful, I don't know how else to describe it, so beautiful."
Classical Chinese dance is the epitome of China's traditional aesthetics and is at the heart of every Shen Yun performance, says its website. It was passed down among the people, in imperial courts, and through ancient plays. Its graceful conveyance of deep inner meaning transcends barriers of nationality and language and is the perfect medium for sharing the wisdom and values of 5,000 years of Chinese civilization.
Ms. Grazioso was also very impressed by Shen Yun's digital backdrop. "The background—how they did that whole technical aspect of it was awesome. I mean I actually felt myself moved by it, physically. So all the senses were engaged, that was what was so awesome about it."
The digital backdrops are designed to complement and synchronize all aspects of the performance: the characters, color of the costumes, specific dance movements, props, lighting, the story being told, particular notes played by the orchestra, and special audio effects. Some of the performances feature mythical beings appearing to come from the heavens and then suddenly entering the three dimensional reality of the theater.
Ms. Grazioso thought her understanding of the show was enhanced by the presence of two bilingual emcees whose narration provided background on culture and history, and conveyed the significance of each piece. "I loved how each segment was explained so that you knew what the lesson was and that there was a purpose to every performance. This way you are being engaged physically, emotionally, spiritually. It was just awesome and I just hope everybody in that room, well at least the majority, got as much as I did from it."
Coming from an Italian family, Ms. Grazioso grew up listening to opera and thus has a sophisticated appreciation and understanding of it. "The sopranos and tenors were beautiful and I liked that they had the captions so that you could understand what they were saying and understand the messages," she said.
Indeed, the silken tones of the sopranos, altos, tenors, and baritones have won the acclaim of audiences and critics alike.
Ms. Grazioso also expressed her confusion as to why Shen Yun is not allowed to perform in China. "That amazes me, it baffles me and I don't understand it because if you are a people of peace and love and compassion and tolerance and yet you [communist regime] don't allow something like this to be displayed … I mean it [Shen Yun] is done with total art and total respect. I noticed all the little nuances that they have added to the show that is utter respect, total respect so I don't understand it.
Shen Yun is not able to travel to China currently, due to the current regime's attempts to abuse and damage traditional culture, including the arts.
When asked if she would recommend the show to her friends, Ms. Grazioso responded: "It is something to be experienced, but go with an open mind and an open heart, and just sit and take in everything that it gives you because really, there is so much to be gained from it. And it is not only visual, it just feeds your heart and feeds your spirit and your mind, and it's all good."
Reporting by Shar Adams and Sophia Bronwen.
Shen Yun Performing Arts, based in New York, tours the world on a mission to revive traditional Chinese culture. Shen Yun Performing Arts Touring Company will perform at The Kennedy Center Opera House, Washington, D.C., through April 1.
For more information visit ShenYunPerformingArts.org