Foreign Relations Committee Leans Toward Action in Syria
September 3, 2013 10:50 pm Last Updated: September 3, 2013 10:50 pm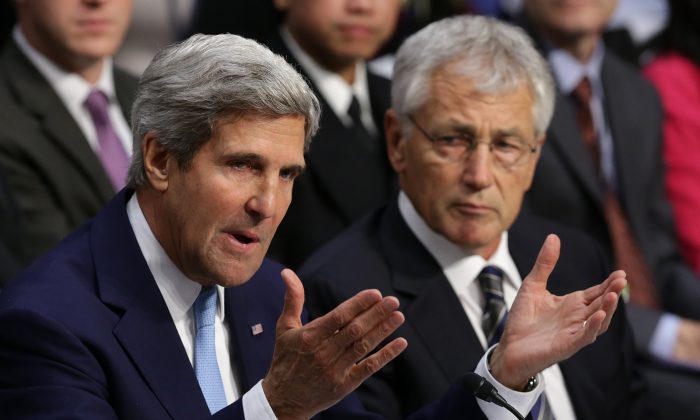 WASHINGTON—Members of the Senate Foreign Relations Committee at a hearing Sept. 3 voiced support for punitive action in Syria. They questioned the president's Cabinet on the details of the offensive plan.
"This authorization in no way, be crystal clear, authorizes troops on the ground in Syria," said Secretary of State John Kerry.
Kerry wants the United States to punish Syrian President Bashar Assad for allegedly killing hundreds of his own citizens with sarin gas on Aug. 21. President Barack Obama is not asking Congress to authorize the American military to enter Syria.
"Assad must go. He has lost all moral authority to govern Syria," said Kerry adding that Obama has decided to arm "vetted, moderate rebels" and to support them in their civil war against Assad. That does not mean United States troops would become involved.
Kerry, speaking before the Senate Foreign Relations Committee, insisted that Obama's request for permission to strike would mean a ground war. He added that America's moral authority is one the line.
"We need to send the unmistakable message that when we say never again, we don't mean sometimes, somewhere. Never means never," Kerry said.
During the hearing, three protesters shouted, held signs, and were escorted from the room. Each opposed attacking Syria.
"We face a real risk here if we do not act. One of the world's worst dictators has steadily ratcheted up attacks against his own people," Sen. Chris Coons (D-Del.) said. "We must act in a timely way to deter and determine Assad." 
The strikes would be meant to deter North Korea, Iran, and other nations that might use weapons of mass destruction, according to Coons.
"We do not want to see the country of Syria disintegrate and become an ungoverned space," said Defense Secretary Chuck Hagel. "We must discourage Assad from escalating his attacks on his people."
The administration released a preliminary assessment of the chemical attack determining that 1,429 people were killed, including at least 426 children. The administration cited geospatial intelligence, multiple independent reports, and alluded to classified information it had shared with Congress.
All members of the Foreign Relations Committee expressed no doubt that Assad had ordered chemical attacks on civilians on Aug. 21. 
Republican House Speaker John Boehner emerged from a White House meeting and told reporters: "This is something that the United States, as a country, needs to do. I'm going to support the president's call for action. I believe that my colleagues should support this call for action."
House Majority Leader Eric Cantor and House Democratic Leader Nancy Pelosi also said they will support Obama because the United States has a compelling national security interest to prevent the use of weapons of mass destruction.
But their endorsements still don't resolve the deep ambivalence and opposition toward action in both parties, and Boehner's spokesman followed up the speaker's announcement by describing the resolution's passage as "an uphill battle." Dozens of conservative Republicans and several liberal Democrats have come out against intervention, and may ignore the positions of their leaders and the president.
Pelosi stressed that Americans need to hear more of the intelligence to be convinced that a strike is necessary.
"I'm hopeful that the American people are persuaded," she said. "This is behavior outside the circle of civilized human behavior and we must respond."
Associated Press contributed to this report.