Florida Gov. Rick Scott ordered the suspension of all tolls across the state ahead of Hurricane Irma.
Scott told the Florida Department of Transportation (FDOT) to make the move, which would allow people in the state to move more freely across Florida—or out of the state—ahead of Irma, a Category 5 hurricane expected to hit Florida in the coming days.
Scott released a statement on the matter.
"In preparation for the potential impacts of Hurricane Irma, I have directed the Florida Department of Transportation to suspend all tolls across the State of Florida to keep traffic flowing. They will be suspended for the duration of the storm's impacts to Florida," the statement reads.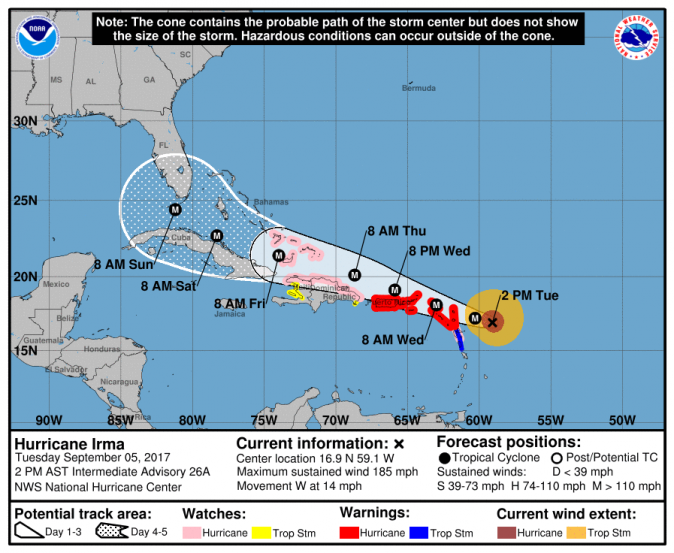 "Ensuring the safety of Florida families and visitors is our top priority and suspending tolls statewide will help people quickly evacuate and make it easier for all Floridians to access important hurricane supplies to ensure they are fully prepared. FDOT has been in constant contact with local districts and stands ready to provide traffic assistance alongside the Florida Highway Patrol and their law enforcement partners. We are continuing to closely monitor the developments of Hurricane Irma and will continue to take aggressive action to keep our state safe," ends the statement.
The toll suspension takes effect at 5 p.m. Tuesday, Sept. 5.
Scott also called on the National Guard and declared a state of emergency for every county in Florida.

Currently the strongest hurricane recorded outside the Caribbean and the Gulf of Mexico, Irma could be catastrophic for Florida if it doesn't wane, The Washington Post reported.
The storm won't hit Florida until the weekend, according to current predictions, but the Leeward Islands, which include the British and U.S. Virgin Islands, will see tropical storm winds tonight and expected hurricane conditions early Wednesday.

Current projections by the National Weather Service (NWS) have Florida seeing possible tropical storm conditions Friday and hurricane conditions on Saturday.
The National Hurricane Center (NHC) is warning of a "POTENTIALLY CATASTROPHIC CATEGORY 5 HURRICANE IRMA" in its normal full-caps update on its site.
The NHC warns "preparations should be rushed to completion in the hurricane warning area."
Matthew Little contributed to this report