Flappy Bird Combined with '2048' to Create New App Game
April 12, 2014 6:46 pm Last Updated: July 18, 2015 5:15 pm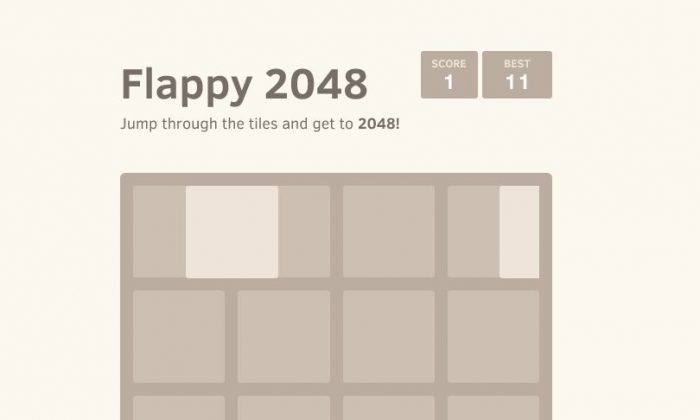 "Flappy Bird" and similarly popular game "2048" were essentially combined as a new app game called "Flappy 2048."
The game plays more similar to "Flappy Bird" than "2048," but it's only available in browser form and on Google Play.
It can be played via Flash on Github. "Jump through the tiles and get to 2048," it reads.
Players have to navigate a horizontally moving block through obstacles and each time you clear a hurdle, you get a point. When you don't clear a hurdle, the player has to start all over again but it's continuous.
According to a report by Bloomberg, "Flappy Bird" and other games like "2048" are shaking up the gaming industry.
"The mobile audience is humongous, and there are so many developers out there that now you begin to see a lot of experimentation," David Helgason, the chief executive officer of Unity Technologies, told Bloomberg. "Some games like Flappy Bird can be over in 10 seconds, while other games you see are much deeper. It's that kind of risk-taking that makes it an exciting space to be in."
The website reported that 28 percent of all revenue in the video game industry will come from mobile games in 2014, up from 11 percent in 2009.
A few weeks ago, "Flappy Bird: New Season" was released, with the developers claiming it was released by original "Flappy Bird" developer Dong Nguyen. However, it was determined that it is likely a fake and not from Nguyen.
Nguyen talked about why he took the game down a few weeks. "I'm considering it," Nguyen said earlier about bringing the game back. The next game will come with a "warning," he said. "Please take a break," he said in an interview with Rolling Stone last month.
He said, "I was just making something fun to share with other people. I couldn't predict the success of Flappy Bird."