Final Dem. Primary Debate a Survey of Candidates' Faults
September 4, 2013 12:15 am Last Updated: September 5, 2013 7:07 am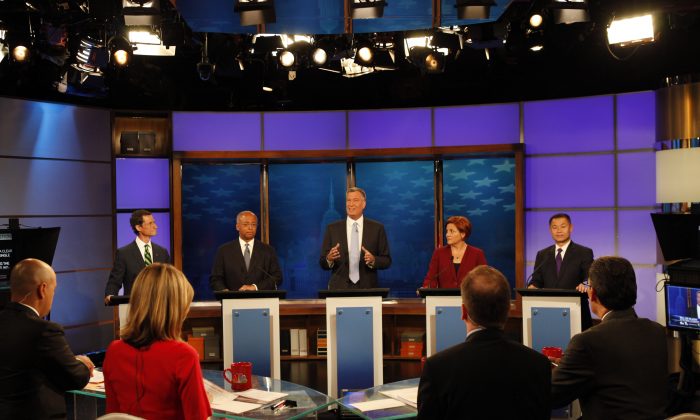 NEW YORK—From the NBC studios in New York on Sept. 3, the Democratic mayoral candidates gathered one last time for a candidates' debate, hoping to leave voters with a lasting good impression as they take to the polls on Sept. 10.
The debate was the final in what has been a marathon campaign season of mayoral forums. There is no official tally, but some members of the press have the number of forums at between 80–100, dating back to the spring of this year.
The final debate, aired for 60 minutes on NBC, and an extra 30 minutes online. The candidates were given 15, 30, or 60 seconds to answer questions, a seemingly impossible task on some issues.
The candidates were asked to give their positions on stop and frisk, a highly contentious issue, and one that will play a major role in the next administration. Everyone was given 15 seconds to answer.
"It is ridiculous. Frankly, I am not sure the conversation is as fulsome as it should be," former Congressman Anthony Weiner said. "Obviously I wish we had more time. If we had more time to talk about these issues, I think everyone would be well served."
Wall Street Journal reporter Michael Howard Saul provided one of the few high points in the often mundane line of questioning, pressing both City Council Speaker Christine Quinn and Public Advocate Bill de Blasio on questions they have been avoiding for their entire campaigns.
Quinn, who has been speaker for seven years, has been accused of holding member items (also known as discretionary funding) over council members heads if they go against her. Saul asked her twice if she used member items to reward or punish council members. Quinn responded a defiant no, twice.
Council members Elizabeth Crowley and Peter Vallone Jr. went on record with the New York Times in March telling a much different tale. Quinn has never faced a formal hearing about the alleged behavior.
De Blasio has been accused of being a flip flopper on term limit extension, something he has hammed Quinn about the entire campaign. In 2005, as a City Council member, de Blasio was in favor of extending term limits, however, in 2008 he was against the measure. Quinn voted for the measure, which paved the way for Mayor Michael Bloomberg to win a third term. 
When Saul asked for a yes/no answer, de Blasio chose to explain why his position changed.
Perhaps the biggest surprises of the evening were City Comptroller John Liu and Weiner, two candidates who are polling at four percent and seven percent respectively. With the sun nearly ready to set on Liu's political career, Liu came out firing, refusing to answer the first question about struggling to make it in the middle class, but instead taking pot shots at the Campaign Finance Board (CFB).
The CFB refused to award Liu's campaign $3.5 million in matching funds after a federal investigation found his former campaign finance manager and a fundraiser guilty of attempted wire fraud. Testimony in court revealed members of Liu's campaign offered to reimburse donors, which is illegal. 
Weiner, who defended Liu's campaign, provided much-needed comic relief during the debate. As he has the entire campaign, Weiner pointed out that the leading candidates—de Blasio, Quinn, and Thompson—were all cut from the same cloth. 
He unsuccessfully tried to team up with Liu, but Liu was having none of it, leading Weiner to say, "John [Liu] you are slowing me up here kid," to laughs from the press room.
The focus of the debate was on many of the same story lines: de Blasio's term limit flip-flop, Quinn and the slush fund, de Blasio's slum landlord donors, Thompson overlooking City Time contract overruns, Weiner and his Tweets (yes, that is still coming up).
Everyone's political skeleton's have certainly been outed on the campaign. While the topics are certainly worth talking about, it begs the question: is it the only thing voters want to know?
Surprisingly, there was not one question regarding Hurricane Sandy, which caused widespread devastation for large portions of the city's waterfront communities on Oct. 29, 2012. The storm caused an estimated $50 billion in damage, and crippled the city for nearly a week. 
Instead, candidates were peppered with questions about who they voted for in 2009, and if they would vote for Joe Lhota (who by the way, has not secured the Republican nomination yet). This may well provide a voter with a fun fact, but it does little to help shape an opinion on one of the key substantive issues facing the city in the next four years.
The next mayor will be tasked with not only rebuilding communities such as Sea Gate, the Rockaways, and Red Hook, but also fortifying the city against future storms.
As New York City voters head to the polls in just under a week to vote in one of the most important primaries in the last decade, voters can rest assured every fault of the candidates was revealed in the debate on Tuesday night.
If you are looking for substance, well, there is always the campaign websites.