The father of a man linked to the murders of a man and woman in remote British Columbia, Canada, says that his son has mental health issues and is on a "suicide mission."
Kam McLeod, 19, and Bryer Schmegelsky, 18, vanished shortly after Lucas Fowler, 23, and his girlfriend, Chynna Deese, 24, were found dead.
The Royal Canadian Mounted Police (RCMP) said the teens are now considered suspects in the two killings as well as the murder of an unidentified man who was found near the teens' vehicle, which was discovered on fire on July 19 south of Dease Lake.
The third victim was later identified as Leonard Dyck, a 64-year-old Vancouver resident.
After McLeod and Schmegelsky were charged with second-degree murder for allegedly killing Dyck, Schmegelsky's father said that his son had a troubled upbringing and is in "very serious pain" stemming from his parents divorce in 2005.

"A normal child doesn't travel across the country killing people. A child in some very serious pain does," Alan Schmegelsky told Canadian Press.
Schmegelsky said his son will probably die in a battle with police officers.
"He's on a suicide mission. He wants his pain to end. Basically, he's going to be dead today or tomorrow. I know that. Rest in peace, Bryer. I love you. I'm so sorry all this had to happen," the father said. "He wants his hurt to end. They're going to go out in a blaze of glory. Trust me on this."
The McLeod family house had "no trespassing" signs outside and McLeod's father, Keith McLeod, said in a statement: "This is what I do know—Kam is a kind, considerate, caring young man (who) always has been concerned about other people's feelings."
"As we are trapped in our homes due to media people, we try to wrap our heads around what is happening and hope that Kam will come home to us safely so we can all get to the bottom of this story," he added.

A former classmate of Schmegelsky said he used troubling language when speaking to them.
Madison Hempstead, who was in a class with him when they were both 13, told Global News: "I don't want to be rude, but he was kind of a weird kid."
"He didn't really talk to anyone, super into himself. But when he did talk to people, the things he said were kind of scary. … All he ever said to me was how he wanted to kill me and ways he would do it," she added. "I never really thought anything of it until now, because we all thought he was just making jokes."
"There were times he would tell me and my friends ways he wanted to kill us and then himself, which is scary," Hempstead said. "One of my friends commented that Bryer said he wanted to kill his whole family."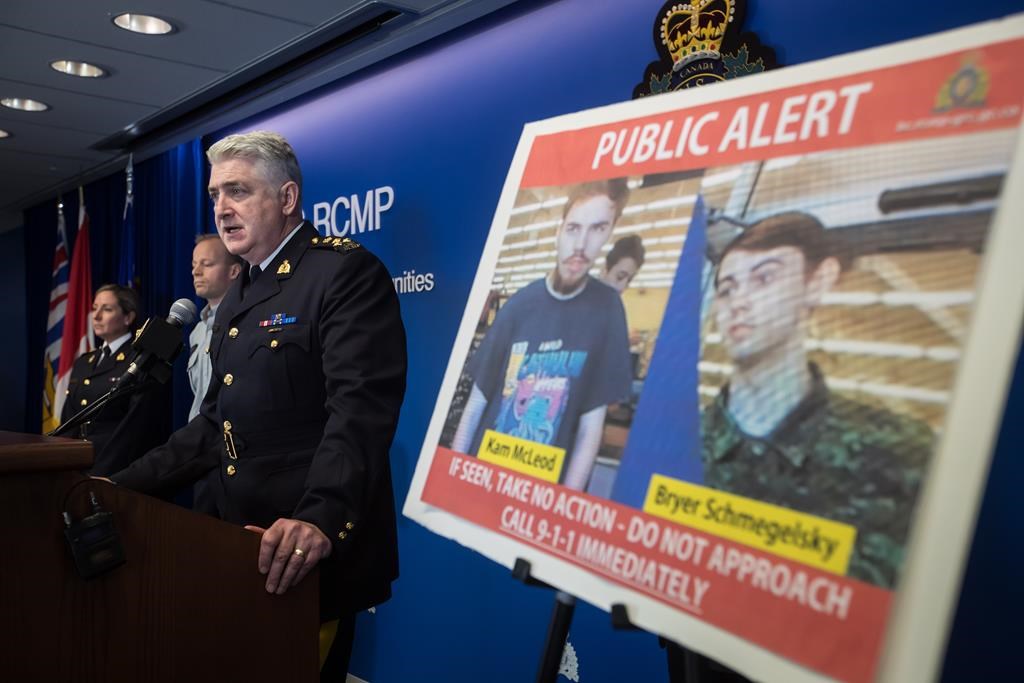 Officials said on Wednesday that the two suspects may be in Northern Manitoba and that residents of Gillam were locking their homes and vehicles are learning the news.
John McDonald, deputy mayor of the town, said extra officers were brought in for the manhunt.
He said life is rough right now in the area, which is known for its swamps and wooded areas.
"If they are wandering around in the bush, they couldn't have picked a worse time because the sandflies came out three days ago and they're just voracious," he said. "I'm quite sure they'll be more than happy to have someone find them."
Police said McLeod and Schmegelsky were spotted in northern Saskatchewan driving a grey 2011 Toyota Rav 4.
"Given these latest developments, Kam and Bryer are no longer consider missing. The RCMP are considering Kam McLeod and Bryer Schmegelsky as suspects in the Dease Lake suspicious death investigation and the double homicide of Lucas Fowler and Chynna Deese," police said in a statement. "We are asking the public that if you spot Kam Mclead or Bryer Schmegelsky to consider them as dangerous—take no actions—do not approach—and call 911 immediately."
The Associated Press contributed to this report.