ANAHEIM, Calif.—Downtown Disney has begun reopening its restaurants for outdoor dining, much to the delight of theme park fanatics.
"It feels great," Marilyn Botzenhardt, a Disneyland annual pass holder in her 70s, told The Epoch Times Feb. 1. "Just to be able to walk in here, even though it's just on Main Street, is great because we bought our annual passes last year and haven't been able to use them."
The restaurants reopened after Gov. Gavin Newsom lifted a regional stay-at-home order that was in place since Dec. 7. Under the order, restaurants could remain open only for take-out orders.
The Disneyland theme park has been closed since the beginning of the COVID-19 pandemic last March.
Disney restaurants that reopened include Ballast Point, Naples Ristorante e Bar, Tortilla Jo's, and Uva Bar & Café, as well as Ralph Brennan's Jazz Kitchen. Sprinkles Cupcakes is reportedly planning to reopen Feb. 9.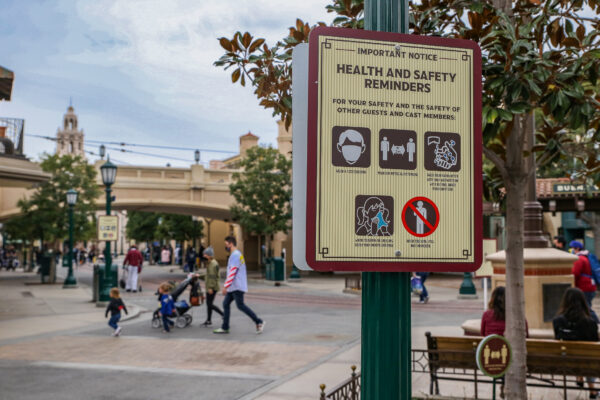 For customers who have missed the Disney experience for much of the past year, the return of outdoor dining can be a small taste of what an eventual full reopening will be like.
Though most of Disneyland and California Adventure remains closed, Botzenhardt said she's happy she can now get one of her favorite meals: the fried chicken dinner at the Plaza Inn.
"This was always my happy place," she said. "It is the happiest place, and to be able to come here—we live in Irvine, it's like 15 to 20 minutes away, and we just come, and sometimes maybe only come for lunch to spend two or three hours. We're not here the whole day but we just like to go to have fun and talk to everybody."
Customers looking to eat at the theme park are able to make a reservation on Disney's website for outdoor eating at any available restaurant.
Although rides are still closed, customers can go inside California Adventure, where some shops and small snack vendors are open and selling food and beverages.
Customers looking to eat at Buena Vista Street and other areas are strictly required to wear a mask, social distance, and have their temperature taken when entering the park.
It's still unknown when Disneyland and California Adventure will be fully reopening with rides, tours, and other activities.
Meanwhile, one of Disneyland's parking lots is being used as a mass COVID-19 vaccination site for Orange County residents.