American Airlines reportedly removed a family from a plane after other passengers allegedly complained about body odor.
Yossi and Jennie Adler and their 19-month-old daughter were asked to get off their plane heading from Miami to Detroit as they were boarding.
"All of a sudden, as soon as they took us off, they closed the gate and then they said, 'Sorry, sir, some people complained you had body odor and we're not letting you back on,'" Adler told local news outlet WPLG.
This is exactly why BOB always keeps a spare deodorant in the glove box. You just never know when you're going to need it. Anyone else stash deodorant in their car?
"We don't have odor, OK?" Yossi said to an airport agent, according to the report. "Nobody here has odor."
The family said the airliner told them they could collect their luggage, but the flight left with their stuff.
"They have our car seat, stroller, everything," Jennie told outlet.
BODY ODOR BOOT – A family vacationing in Miami was kicked off their flight home because passengers complained about their body odor.

由 WPLG Local 10 发布于 2019年1月24日周四
An American Airlines spokesperson issued a statement to Yahoo Lifestyle, saying, "They were asked to deplane after multiple passengers, along with our crew members and Miami airport team, were concerned about the comfort of our other passengers due to the odor."
The person said, "Our team members took care of the family by providing overnight accommodations and meals and rebooking them for the next available flight."
The Adlers boarded another flight and this time, they went around asking people about their odor.
"We stopped several people in the airport and, it's embarrassing, but we asked them, 'Do you think we smell? Because we just got kicked off a plane for smelling,'" Jennie told WPLG.
"I'm very frustrated," Yossi told the station. "I want them to own up to what really happened and to tell me the truth. What was it?"
According to the Times of Israel, the Adlers said there was a religious reason for the move.
"There's a religious reason for some reason that they're kicking me off the plane. We don't have odor, OK? Nobody here has odor," Adler says in the video, according to the publication.
Coming up at 9: A Detroit family upset after being kicked off a flight leaving from Miami International Airport — American Airlines says it was because of their body odor. pic.twitter.com/kypSMk6Chc

— Parker Branton (@ParkerBranton) January 24, 2019
The airline employee told them: "Now you told me for religious reasons you don't shower, is that what you said?"
"No I didn't! I shower every day. I said you kicked me off because of religious reasons," Adler shot back at him.
Last week, the Adlers were able to make it back to Detroit and got their luggage without incident, the Times reported.
Wheelchair Issue?
American Airlines said it's investigating after a woman in a wheelchair was left in an airport overnight following a canceled flight.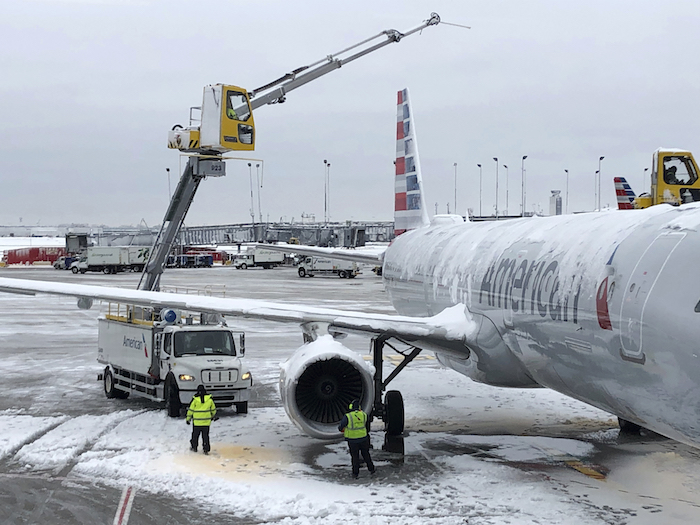 Olimpia Warsaw, 67, was attending a relative's funeral in Chicago and was scheduled to fly back to Detroit on Nov. 30.
Claude Coltea said that he walked his mother Warsaw, who has Parkinson's and diabetes, to the gate. "I walked with her all the way to her gate," he told CBS. "I confirmed with the gate agent that the flight was on time. Everything was ok. She said, 'Yup, all's fine. We'll take good care of your mom.'"