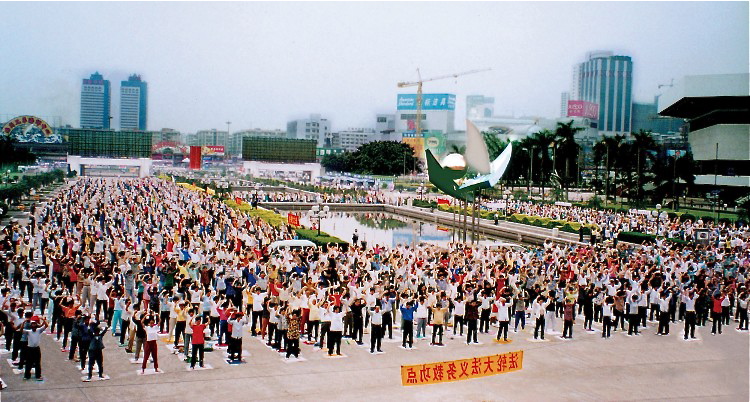 She was forced out of her college studies one year before graduation, leaving her with no options but to go to work in a small supermarket—and yet, Yang Qing was able to go from a common cashier to a sought-after design professional.
Her key to success? Honorable moral conduct, as a result of the teachings of the spiritual practice, Falun Dafa, also known as Falun Gong, a traditional Chinese meditation practice (www.falundafa.org). The practice is currently persecuted in China, which explains why she was forced out of college. But despite the regime's propaganda against the practice, Yang has been successful in her career in China.
Yang came across a design company one day while using the Internet and arranged for a job interview. The manager, a Mr. Gan, interviewed her personally. Yang told him frankly that she was forced to discontinue her studies because of her beliefs, but assured him that she kept good grades while in school.
The manager was impressed with both her artwork samples and her honesty. He hired her immediately, saying, "I know that Falun Gong practitioners are all good people."
Practicing Falun Gong has brought many benefits to Yang. Despite her lack of work experience, she was soon securing contracts for the company. In her second year of work, she was able to take on projects usually handled by senior members, and the investors for the projects were pleased with her project design and client service. Her pay doubled shortly after she was hired.
What impressed her manager most was Yang's moral conduct. The manager of a large company had once called Yang, inviting her to work there. Although the large company surpassed Yang's current company in scope, prestige, and benefits, she remained loyal to her current employer.
Yang's company once partnered with another company to complete a project. There was some dispute over one of the tasks, and at last Yang's company won the rights over the task and handed the task to her. Xia, the supervisor from the partner, was dissatisfied with the result and made his displeasure clear by nitpicking everything Yang did.
According to Yang, she should conduct herself as a Falun Gong cultivator, looking at Xia's criticism as a good thing—it's a good opportunity to improve her mindset; as long as his words held reason, it could make the work more effective. She was not bitter toward Xia; rather, she dutifully completed her tasks and assisted him in every way she could.
Xia's attitude toward her changed accordingly and one day, he asked her to work at his company. Yang once again declined his job offering with thanks.
Sometimes, Yang's low-key manner and humble actions are mistaken by her coworkers as foolishness, but as they see how her determination has earned her many rewards, they realize that she has been in fact following a virtuous path and that her morality is what has ultimately brought her success.
For many years slander and propaganda have targeted Falun Gong practitioners in China, and yet, employers and companies are increasingly considering Falun Gong practitioners as top job candidates.
As Socrates said, "Virtue is knowledge;" and through Yang Qing's story, we see how that is so.
Read the original Chinese article.
The Epoch Times publishes in 35 countries and in 19 languages. Subscribe to our e-newsletter.