Every year, Falun Gong adherents around the world gather in their various communities to celebrate International Falun Dafa Day, which falls on May 13.
On that day 27 years ago, the meditation practice with ancient roots was made public in Changchun, marking the beginning of its spread across China and around the world.
Over the past week, Canadian Falun Gong adherents in different cities gathered in celebration of this special day to honour the practice, which is also called Falun Dafa and is based on the tenets of truthfulness, compassion, and tolerance, or forbearance.
On May 11 at Gazebo Park in Edmonton, the celebrations were joined by two local Conservative Members of Parliament, Michael Cooper and Ziad Aboultaif, who both gave speeches.
"What has transpired over the last 27 years has been truly remarkable, [with] more than 100 million people from all corners of the world coming together to support and practice the beliefs and teachings of Falun Gong, to embrace the principles of truthfulness, compassion, and forbearance," Cooper said.
"Your community is such an inspiring community," said Aboultaif. "I'm very, very impressed, always have been, with your determination, your strength, what you fight for, and what your advocate for. You advocate for truthfulness, compassion, as well as forbearance. With these principles, it encourages followers to be virtuous people and to abandon negative thoughts and actions."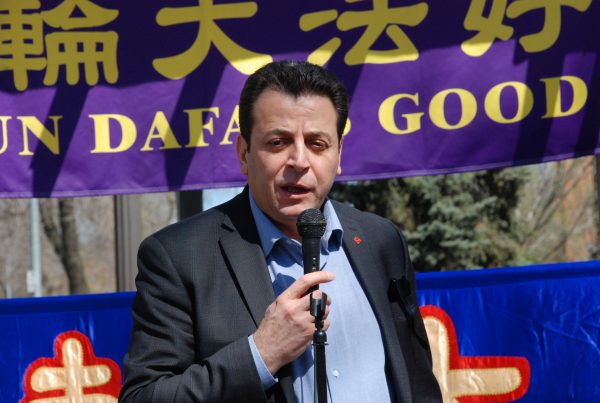 Cooper said Falun Gong's universal principles are under assault due to the relentless campaign of persecution launched by the Chinese regime against adherents in China on July 22, 1999, that continues today.
"While truthfulness, compassion, and forbearance are Falun Gong principles and values, let me say they are also Canadians' principles and values. They are universal principles and values—principles that are systematically being attacked by the brutal communist regime in Beijing."
He said the regime responded to Falun Gong practitioners' appeal in Beijing on April 25, 1999, for an environment to be able to practice their faith freely with "a systematic campaign to arrest, to detain, to torture, and to murder Falun Gong practitioners."
He said that every day for the past two decades, "Falun Gong practitioners [in China] are being harassed, they are being arrested, they are being subject to extra judicial trials, they are being murdered, and they are being tortured."
"A message must be sent thoroughly and unequivocally to the Beijing communist regime that 'you will be held accountable for your crimes against humanity,'" he said.
"It is truly inspiring that despite the enormous and gross human rights violations that have been occurring daily in China, Falun Gong practitioners have persevered, and that's because no matter what the Beijing regime attempts to do, truthfulness compassion and forbearance will always prevail."
"We wish you the best," Aboultaif said. "Continue doing what you are doing, toward the freedom that you aim for and the human rights that you fight for."