HONG KONG—Fiji produced a sublime and consummate display of sevens rugby to win the Cathay Pacific/HSBC Hong Kong Sevens on Sunday evening. They beat South Africa 22-0 in the final, and produced rugby reminiscent of Rio, and a reminder to the faithful, that Fijian sevens rugby is simply the best.
From the emotional tears whilst singing the National Anthem, Fiji looked determined to defend their Hong Kong title, and remain undefeated in Hong Kong for over three years. Before South Africa had touched the ball, Fiji was already 10-0 clear; and that cushion allowed them to relax and play a more expansive style of rugby. South Africa gamely tried to get back into the game, but small errors were exploited by the Fijians who added two more tries in the second half, running from deep, to extend their lead to 22-0.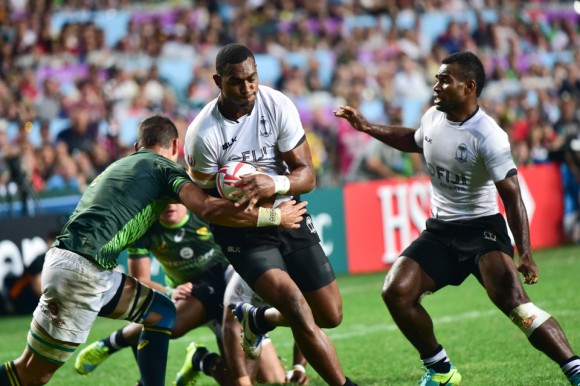 It was Fiji's first victory on the sevens circuit, (bar the Olympics) since Hong Kong last year, and what a stage to rediscover their mojo. It was a fitting homecoming tribute to their new coach Gareth Baber, formerly of Hong Kong, who needed victory as a confidence boost for his team.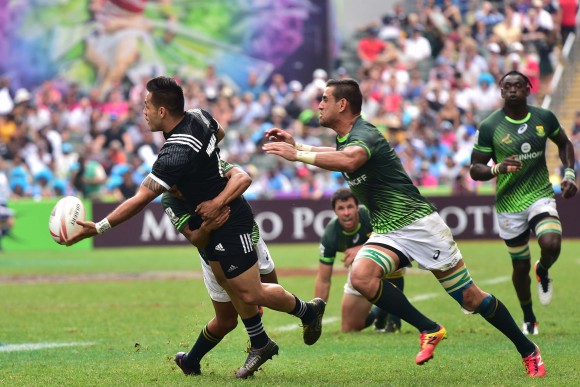 Fiji reached the final beating Canada in the quarterfinal 29-12, and Australia 33-12 in the semifinal. South Africa had a tougher path: they edged New Zealand in the quarterfinal 21-19; and then played a 'golden point' to beat the USA in the semifinal 29-24. All South Africa's matches on Sunday were worthy finals!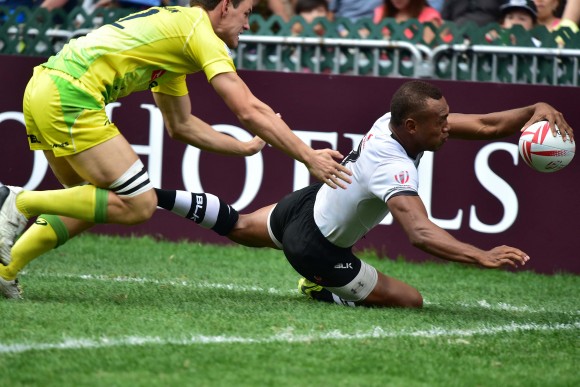 In other matches, Australia won the bronze medal beating the USA 26-19; New Zealand won the Plate final against Argentina 10-7; Scotland narrowly beat Kenya 21-19 for the Trophy; and Japan provide the packed Hong Kong stadium an upset victory beating Wales 28-21. It gave Japan a double-bonus, the Men winning the Shield and the Women winning the Women's Qualifying tournament securing core status next season.


After round seven, South Africa still lead the standings with 145 points, but Fiji is now second with 122 points, and England third on 113, with New Zealand (97points), the USA (82 points) and Australia (79 points) following. Round eight is in Singapore next week.  Propping up the league table is Japan, and the battle for survival is between Samoa (31 points), Russia (23 points) and Japan (15 points).
One of those three team will lose core status next season and be replaced by Spain, who won the Men's Qualifying tournament beating Germany 12-7 in the final. Both teams reached the final undefeated, but the experience of Spain (they had been a core team three season ago) and played in the Rio Olympics, gave them an edge. Germany took an early lead, but Spain's discipline and game management saw them score twice and celebrate victory.
This was another spectacular Hong Kong Sevens, and it's easy to see why this tournament is the jewel on the circuit. There is a festive carnival atmosphere in and around the stadium and throughout areas of the town; the crowd dress-up in an array of costumes from dinosaurs to pirates, Super Mario to Super Heroes and add to the festivities; and on the pitch, there is a skillful showcase of rugby played in excellent spirit that improves season on season. Hong Kong creates a unique elixir of all that's good in the game, and World Rugby has much to thank this city for the platform it has given Sevens.



 For another year, Fiji reign supreme in Hong Kong; and Spain and the Japan Women can reflect on their new-found status for next season. For the rest of the teams, it's either onward to Singapore next week, or home plot a route to the Qualifiers next season. And for all teams there's preparation for the 2018 Rugby Sevens World Cup in San Francisco.
Grahame Carder is a sports enthusiast, former player and resident in Hong Kong.