Campuses that hold pro-Hong Kong activities are facing consistent pushback from mainland Chinese students.
Students at Simon Fraser University report their posters and notes against the violence in Hong Kong get torn down, and rallies in support of Hong Kong protesters at universities in Australia and New Zealand have deteriorated into violence after Chinese students reportedly initiated assaults against rally-goers. Hong Kong activists claim the disruptions are a result of Chinese students being deliberately "misinformed" by Beijing.
The moment the first attack took place at UQ. A CCP thug ripped the speaker from my hands in an attempt to intimidate me. This vid show conclusively that CCP students initiated the violence. @Rory_Medcalf @geoff_p_wade @damiencave @latingle @alexjoske @fergushunter #uqprotest pic.twitter.com/87aYqnUGPW

— Drew Pavlou (@DrewPavlou) July 26, 2019
At SFU, where students set up a "Lennon Wall" on July 23—the day after a violent attack by suspected triad gangsters against protesters and passengers at a Hong Kong metro station—signs and notes in support of the protesters get torn down each night, with reports of verbal confrontations by the pro-Beijing side.
Originating in the former Czechoslovakia after the death of former Beatles member John Lennon, the "Lennon Wall" became a mechanism for people to express their disdain with the ruling communist regime in the 1980s. In Hong Kong, the wall was initially used during the 2014 pro-democracy Umbrella Movement as a way for protestors to uphold free speech, and has become widely used again in recent protests against Beijing's control of Hong Kong.
An executive with the SFU Hong Kong Society says a group of students wanted to put up the wall as they were upset with the violence against the protesters in Hong Kong. The latest demonstrations in Hong Kong, now in their second month, started in opposition to a controversial extradition bill, but have evolved into protests against Beijing's increasing attempts to control Hong Kong.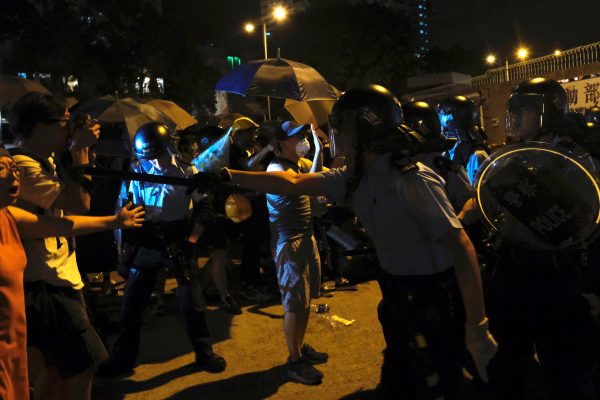 The executive, who wanted to keep her name private, says besides the signs being destroyed each night, there have been instances where students originally from Hong Kong tried to explain to curious passerby what the wall was about, but the conversations get "rudely" disrupted by Chinese students.
The Epoch Times has seen screenshots of social media conversations on SFU Chinese student online chatrooms expressing outrage at the Lennon Wall, with some saying they will tear down the notes on the wall.
"We're just really upset with what is happening. We hope everyone can be rational and respect everyone else," the executive told The Epoch Times.
Videos from a rally last week in support of Hong Kong protestors at the University of Queensland in Australia show a pro-Beijing student forcefully grabbing a megaphone from one of the organizers, with a violent confrontation ensuing. Pro-Beijing students reportedly ripped up signs in support of Hong Kong democracy and Uyghur Muslims persecuted in China at the rally.
At the University of Auckland in New Zealand, a formal investigation has been launched after three pro-Beijing men physically confronted supporters of Hong Kong protestors this week, with a video showing a female student being pushed to the ground in front of a Lennon Wall on campus.
Meibao Li, president of the Vancouver branch of the Hong Kong Alliance in Support of Patriotic Democratic Movements in China, says the behaviour of the Chinese students is a result of their being "misinformed" and "brainwashed" by Beijing.
"They're thinking the people of Hong Kong want to secede. That is the message that they've probably been getting from the Chinese Consulate," Li said.
A day after the violent confrontations at the University of Queensland, the Chinese Consulate in Brisbane issued a statement in support of the Chinese students, calling the rallies held in support of the pro-democracy Hong Kong protests at the university "anti-China, separatist activities."
Li says she thinks the Chinese Consulate contacts Chinese students to prod them to act against Hong Kong activists.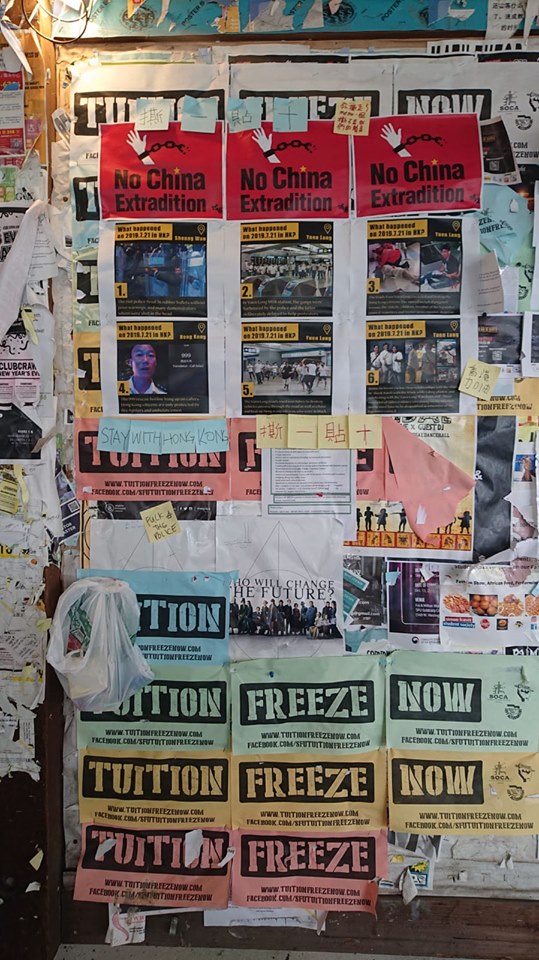 She recalls that during the 2014 Umbrella Movement over proposed changes to the Hong Kong electoral system, similar confrontations happened at the University of British Columbia, but at that time, Hong Kong students were able to explain to Chinese students what the Hong Kongers were protesting about and clarify the facts, and that helped create understanding and avoid conflicts between the two sides on campus.
"They need to have a dialogue from time to time—that can solve a lot of misunderstandings. You need to hear the information first-hand, not from other people who put wrong information in your mind," Li said.
There have been a number of recent cases of the Chinese communist regime attempting to exert influence in Canadian universities.
In March, Chinese consulate officials tried to pressure a human rights research institute to cancel an event at Concordia University that featured an exiled Uyghur Muslim.
A month before that, a University of Toronto Scarborough student of Tibetan ethnicity was the victim of online abuse after being elected president of the student union because she had spoken out against the Chinese regime's abuses in Tibet.
In another case in February, the Beijing-linked Chinese Students and Scholars Association (CSSA) issued a statement against a human rights event on campus in support of Uyghur Muslims; online discussions showed Chinese students saying they were asked by the Chinese Consulate to report their observations of the event to the consulate and to contact the CSSA.
Li says she hopes that the conciliation that happened at UBC between the two sides also happens at SFU, and that the concept of democracy gets respected in Hong Kong, and even extends to mainland China.
"If Hong Kong is able to have successful democracy, hopefully it will spread to mainland China as well, so this helps everybody, not just the people of Hong Kong."