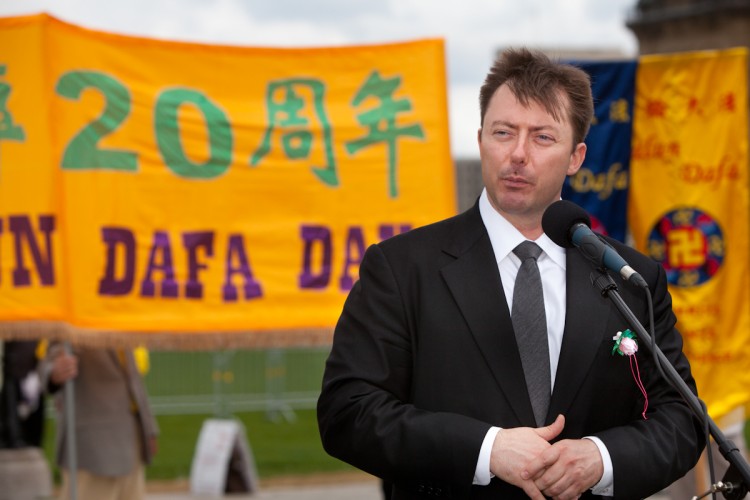 PARLIAMENT HILL—Conservative MP Rob Anders is concerned that very few Members of Parliament seem to really understand the significance of events unfolding in China today or the true nature of the Chinese regime.
"China is so vast and nebulous that a lot of people, unless they are deeply concerned, have a hard time reading the tea leaves," he said.
The Chinese Communist Party (CCP) that rules China is currently in the midst of unprecedented upheaval as allies of former Party leader Jiang Zemin come under censure. Those allies include former commerce minister Bo Xilai and security chief Zhou Yongkang, both of whom Epoch Times analysts predicted would fall.
Jiang promoted both Bo and Zhou for their zealous adherence to Jiang's bloody crackdown on the Falun Gong spiritual practice.
Meanwhile, current Premier Wen Jiabao is making bold moves to bring China towards democracy, including a recent directive that will allow political parties to register in China.
A well-placed source revealed to The Epoch Times recently that key leaders in the Chinese regime have agreed to nationalize the military, strike a committee to form a constitution that would enshrine the right to form associations and political parties, and redress the Tiananmen Square massacre and crackdown on Falun Gong.
The agreement also said the CCP had completed its reign as China's ruling party.
Those signals represent seismic shifts within the regime. Historically, the CCP is known for its ruthless grip on power, a grip cemented with millions of dead. Some estimates put the number of deaths caused by the CCP since it came to power at 65 to 80 million.
Click www.ept.ms/ccp-crisis to read about the most recent developments in the ongoing power struggle within the Chinese communist regime. In this special topic, we provide readers with the necessary context to understand the situation. Get the RSS feed. Get the new interactive Timeline of Events. Who are the Major Players?
'Chequebook diplomacy'
As events rapidly unfold, many MPs in Canada remain unclear about the true nature of the Chinese regime. Anders said many of the experts who do understand China have a vested interest in the status quo, while others have been duped by the regime.
"They are people that go on five-star trips and get wined and dined and what have you," he said.
"I think a lot of people get bought into the chequebook diplomacy. I think that China is very good at taking people over to China and Shanghai and giving them a stay at a five-star hotel, and introducing them to people that speak excellent English and take them out for a night on the town, and stroke their egos and offer them business deals."
Some MPs The Epoch Times has spoken to have been uncomfortable talking about the unfolding events on the record; but few seem to have followed events closely. Some MPs who are closely involved in China seem relatively unaware of the abuses by the regime.
"The problem is a lot of our people are naive," said Anders.
MPs offered great business deals that keep paying after they put up a bit of money don't see themselves as bought, said Anders. Other officials approached by a woman a third their age don't want to recognize that they are being offered favours, he said.
"They don't want to see that for what it is. … They're too proud to admit that they've been taken."
Subtle Seduction
Anders compares the way MPs and others get seduced by officials of the Chinese regime to how Mackenzie King was seduced by Adolf Hitler after a visit to Nazi Germany in 1937.
"My sizing up of the man as I sat and talked with him was that he is really one who truly loves his fellow-men, and his country, and would make any sacrifice for their good," King wrote about Hitler in his diary. The former PM wrote that Hitler appeared to be "a man of deep sincerity and a genuine patriot."
"As I talked with him, I could not but think of Joan of Arc. He is distinctly a mystic," wrote King.
Anders compared King's comments to how Canadian officials and others have talked about Bo and other Chinese officials known for their brutality.
"It's depressing. I am sure that on a one-on-one basis, the leaders of communist China, having risen to the positions that they have, they're probably affable, they probably have people skills, they probably are well read and conversant on a variety of topics. So in that respect I am sure they may be interesting to have a discussion with," he said.
"But when you judge the regime and what it has done, in terms of taking over other people's territory, or in terms of gun boat diplomacy against their neighbours, or in terms of exporting revolution-like Maoist rebels to Nepal, or in terms of harvesting the organs of Falun Gong practitioners, or having the largest number of political executions in the world, and its massive system of jails and forced labour—that's how the regime has to be judged.
"That is the best way to judge the regime—by their actions, not by the words of the leaders in one-on-one meetings."
Anders is hopeful the forces of moderation in China are rising up so that there is a policy shift in the country, but he is concerned it may not be as peaceful as it could be.
Regardless, he said Canada had a duty to support values like democracy and basic freedoms in China.
The Epoch Times publishes in 35 countries and in 19 languages. Subscribe to our e-newsletter.